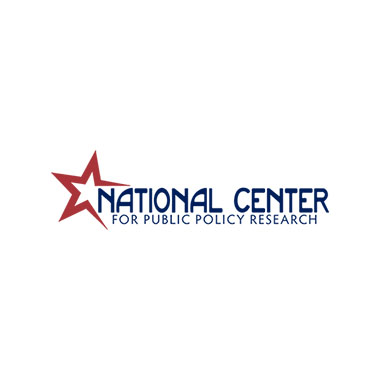 About the National Center for Public Policy Research
The National Center for Public Policy Research (NCPPR) was established in 1982 to address issues insufficiently addressed by the broader Freedom Movement. It is a nimble and dynamic organization dedicated to providing free market solutions to today's public policy problems through innovative programs.
The National Center's programs advance the principles of free markets, individual liberty and personal responsibility. Its largest programs are the Free Enterprise Project (FEP), the leading shareholder activist group on the right which confronts woke corporations and the ESG agenda; Project 21, the black leadership network drawing its membership from academia, law enforcement, small business, the media and other fields leading the fight against radical groups such as Black Lives Matter that seek to divide Americans along racial lines; and Able Americans, our newest program aimed to support Americans living with intellectual, developmental and physical disabilities by advocating for free market solutions to create better outcomes. Another National Center program is the Environment and Enterprise Institute, which advances free market solutions to environmental problems.
About the Media Relations Specialist Opening
The National Center is seeking an exceptional self-starter with strong communication, prioritization, relationship building and project management skills.
This person must be results-driven and detail oriented. Experience in donor/member relations or sales is helpful, but not required for this position. Comprehensive training and development will be provided to the selected employee.
The new Media Relations Specialist will report to the Director of Media Relations and will be heavily involved in efforts to ensure significant engagement with media hosts, bookers, columnists, editors and others within the television, newspaper, radio and digital marketing/social media fields. Additionally, the Media Relations Specialist will assist in implementing a media outreach strategy for the organization to ensure brand and messaging consistency across all platforms. The position will be very challenging and fast-paced, but extremely rewarding.
This is a D.C.-based position only, located on Embassy Row near the Dupont Circle Metro station. Some telecommuting may be permitted.
Qualifications
1-3 years of experience in media relations, donor/member relations or sales preferred but not required
Ability to work in the office at least three days a week

Excellent writing and editing abilities, including the ability to summarize complex information for pitching opportunities

Professional service-oriented approach, particularly in building relationships with media representatives
Ability to respond extremely quickly to media requests and changes to existing interviews
Alignment with and passion for the mission of the National Center for Public Policy Research
Quick learner, detail oriented, with dependable follow-through and ability to multi-task
Self-motivated and capable of working independently with minimal supervision
Familiarity with the freedom movement and free market principles
Ability to respond extremely quickly to media requests and changes to existing interviews
Ability to work with many diverse personalities
Good sense of humor and collegiality is a must!
Bachelor's degree or equivalent experience
Sales background preferred, but not required
Responsibilities
Pitching daily topics to media outlets, securing TV and radio interviews and op-ed placements for NCPPR analysts
Developing and managing media relationships on behalf of NCPPR
Fostering and strengthening established media contacts, while actively working towards expanding and establishing new ones
Utilizing the Meltwater software to develop campaign strategies that are important to NCPPR broadening its national presence and exposure
Compensation 
The projected salary range for this role is $60,000-70,000, contingent upon the specific skills and experience of the selected candidate. We anticipate a higher compensation for an exceptional candidate or a lower range for a promising, less experienced candidate.
To Apply
Qualified candidates should submit the following application materials (in order) in one PDF document:
Cover Letter detailing your interest in the position and the mission of NCPPR as well as your salary requirements

Resume
Applications should be submitted to Talent Market via this link: talentmarket.org/apply-for-your-dream-job/.
Questions can be directed to Bailey Drouant, Outreach Manager at Talent Market, who is assisting with the search: [email protected].
There is no application deadline for this position. Applications are accepted on a rolling basis. This job will remain posted on our site until it is filled.
While we thank all applicants in advance for their interest in this position, we are only able to contact those to whom we can offer an interview. Only direct applications will be considered. No phone calls, please.
Talent Market is a nonprofit entity dedicated to promoting liberty by helping free-market nonprofits identify talent for critical roles. We provide consulting and recruiting services at no cost to 501(c)3 nonprofit organizations that clearly and directly focus on advancing the principles of economic freedom, free enterprise, free trade, free speech, property rights, rule of law, and limited regulation.