30 Apr 2007

Treehouse Fight Costs Family, Taxpayers $58,000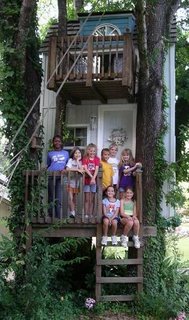 photo credit:
saveourtreehouse.com
The government of Clinton, Mississippi goes after a family's treehouse, after granting a permit to build. Case ends up before the Mississippi Supreme Court.
$58,000 Spent Fighting Over a Treehouse
Two anonymous complaints about a treehouse have cost a Clinton, Mississippi homeowner at least $28,000 in legal fees and local taxpayers about $30,000 in a fight to have a playhouse torn down.
In early 1997, Mary Welch sought and received permission from the city's permit department to build a treehouse – a structure that is not defined by city ordinances – in her front yard. After receiving the two anonymous complaints in 2002, however, Clinton Mayor Rosemary G. Aultman ordered the Welch family to tear the treehouse down. The family appealed the demand to the city's planning and zoning board. Despite not being able to find any ordinance banning such structures, and the fact that 51 out of 54 neighborhood homeowners signed a petition in support of the treehouse, the board still ruled that the treehouse should be restricted from the Welchs' front or side yard. City officials also denied the Welchs' request for a conditional use permit that would have granted a special exemption and allowed the treehouse to remain in place.
The Welch family challenged the planning board's claim in Hinds County Circuit
Court, where Judge Tomie Green ruled in favor of the Welch family. In her ruling, Green pointed out that no city ordinance defines a treehouse. The city board voted to appeal the ruling to the Mississippi Supreme Court in August of 2003. However, the court sided with the Welches and will allow the treehouse to stay.
Despite the Supreme Court's finding that the city's use of the ordinance was "unconstitutionally vague," the city has not offered an apology to the Welch family nor amended the zoning ordnance. The Welch family has accumulated at least $28,000 in legal bills since the controversy began, while the city has spent roughly $30,000 on a case that most Clinton residents did not want pursued. A poll conducted by the Southern Research Group found 76 percent of registered voters in Clinton preferred that city officials resolve the issue by granting the special exemption to the Welch family. Instead, the city remained on a crusade against a treehouse, adding frustration and mounting legal bills to the Welch family while wasting taxpayer dollars.
Sources: Mary Welch, Saveourtreehouse.com, The Clarion-Ledger (July 24, 2003; August 5, 2004)
**Read this story and 99 other all-new outrageous stories of government regulatory abuse in the new fifth edition of the National Center for Public Policy Research's book, Shattered Dreams: One Hundred Stories of Government Abuse.
Download your free PDF copy today here or purchase a print copy online here.**
_____
Labels: Property Rights, Regulation, Regulatory Victims