21 May 2007

Bicycle Carriages Outlawed After Taxi Drivers Find Them Threatening to Business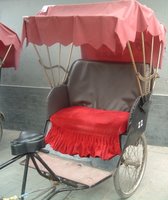 The survival of the Las Vegas pedicab industry has been threatened since the Nevada Transportation Services Authority passed regulations that mandate pedicab drivers must carry insurance and ban pedicabs altogether along the busiest – and, thus, most lucrative – sections of the Las Vegas Strip.
Bicycle Carriages Outlawed After Taxi Drivers Find Them Threatening to Business
Bill Jones is used to maneuvering around roadblocks. As pedicab driver on the Las Vegas Strip, Jones would maneuver his half-bicycle, half open-air carriage through congested streets where locals and tourists alike flock.
Now Jones and other employees of Silver State Pedicabs must contend with a potentially monumental barrier in the form of the Nevada Transportation Services Authority (NTSA), which wants to eliminate pedicabs altogether.
Clark County pedicabbers say they provide a valuable and unique service for this bustling area. The NTSA, created in 1997 to regulate limousines, tour buses, moving companies and tow-trucks, argues that pedicabs are a threat to pedestrian safety.
The Clark County taxi industry also considers pedicabs a threat – to its own business.
In an effort to eliminate the pedicabs, Clark County officials began creating obstacles that threatened the pedicabs' survival. Pedicabbies are already prohibited from charging a fare for their services. To counter this, pedicabs often display "not for hire" signs, so driver's earn their pay solely on tips. Drivers like Jones say they can earn between $100 and $300 for rides on the five-mile Las Vegas Strip, making the pedicab industry a viable and lucrative form of employment.
However, in March 2004, Clark County commissioners voted to ban pedicabs on the busiest thoroughfares of the Strip, from Russell Road (South end) to Sahara Avenue (North end), and 200 feet east of the Strip. Pedicabs may operate outside the restricted area where far fewer pedestrian and tourist traffic are present, but operators must carry insurance. The regulations follow an example initiated by the city council in Santa Barbara, California, where bureaucratic requirements resulted in the extinction of the pedicab industry.
Sources: Associated Press (November 13, 2003), Nevada Transportation Services Authority, Las Vegas Review-Journal (March 3, 2004), Business Week (February 8, 2005)
**Read this story and 99 other all-new outrageous stories of government regulatory abuse in the new fifth edition of the National Center for Public Policy Research's book, Shattered Dreams: One Hundred Stories of Government Abuse.
Download your free PDF copy today here or purchase a print copy online here.**