10 Jun 2008

Project 21's Borelli Rebuts Jesse Jackson at JPMorgan Chase Shareholder Meeting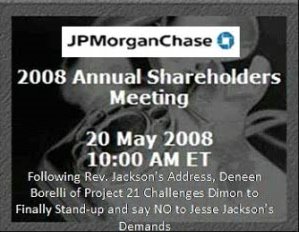 Deneen Borelli, Project 21 Fellow, shares at our request the details of her appearance at the question-and-answer session of the recent JPMorgan Chase stockholder meeting, at which she had a decidedly different question for CEO Jamie Dimon than did her predecessor at the microphone, Jesse Jackson:
Jesse Jackson appeared to be up to his old tricks at the JPMorgan Chase annual shareholder meeting in New York City. During the question-and-answer session of the meeting, Jackson pressed company CEO Jamie Dimon about the company's commitment to diversity. Among "several concerns," Jackson specifically asked Dimon how much of the company's $750 million dollars spent in legal and management fees on the recent merger went to minority contract lawyers. As Jackson tactfully put it: "how much of that was done by black and brown lawyers?"
While Dimon said he did not know the specific dollar amount, he emphasized that JPMorgan's support of minority contractors was up and that the company had a vice president of diversity. That led Jackson to increase the scope of his question to include the amount of accounting and advertising fees paid to those with black or brown skin color.
Clearly, JPMorgan is already dancing to Jackson's tune, but I guess it is not paying the piper.
I addressed the meeting after Jackson. I asked Dimon and the board of directors if there would "ever be a day you stand up and say no to Jesse Jackson." I suggested that people should be hired for their talents and retained for their results — not their skin color. Following my statement, I got a round of applause from among the assembled crowd. After the meeting, a few shareholders congratulated me for saying what many were thinking.
To hear the exchange, click here; to read a transcript, go here.