23 Apr 2009

Drama at GE Shareholders Meeting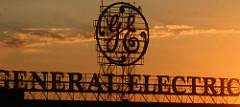 Tom Borelli tells me the GE shareholders' meeting today was very interesting.
The first of several questions about media bias at GE-owned CNBC and MSNBC was asked by Mrs. Tom Borelli, aka Project 21 Fellow Deneen Borelli.
We'll have more details from Tom and Deneen about what happened shortly (they're writing up a summary of events right now, in between talking to journalists), but for now, you can whet your appetite with this story by the Hollywood Reporter (which was just linked to by Drudge, so you can tell it's interesting).
For an even better report, catch Tom on Glenn Beck's radio show Thursday morning at 10 AM Eastern.
And if you haven't already done it, sign the online petition to GE CEO Jeffrey Immelt.