04 Jul 2010

Fort Meade Fourth of July Warning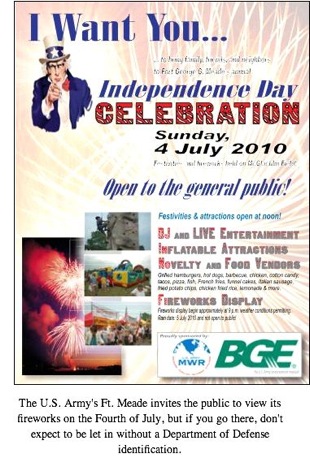 If you live in or visit the area around Fort Meade in Maryland around the Fourth of July, don't plan on viewing the annual Fourth of July fireworks if you don't have a Department of Defense I.D.
David tried to take the kids there this year — as we did successfully several years ago — but was turned away at the gate because he doesn't have a DoD I.D.
David speculated that the base would have let them in had they arrived earlier in the day, but they arrived before the fireworks started, and the base website says nothing about an arrival deadline.
So… if you're a civilian who doesn't work for the Department of Defense and you plan to try it yourself in a future year, be warned. And if you plan to try it anyway, allow a lot of time for traffic (yes, I know, it's not typically a high-traffic area). We live 20 minutes from the base, but it took David and the kids an hour to get there because of — presumably — fireworks traffic tonight. How many of the cars were disappointed families being turned away, I don't know.