11 Feb 2011

Google Celebrates Old Man's Evil Invention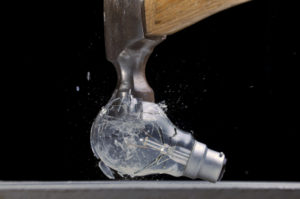 Today's Google logo is a celebration of the creations of Thomas Edison on the legendary inventor's 164th birthday.
The familiar multi-colored letters of the Google name are replaced with yellowing, animated sketches of famous Edison patents such as the phonograph, motion picture camera and the incandescent light blub.  The light bulb even lights up!
Google, however, might want to revise the design if they want to repeat the logo in future years.  In this shining new era of Barack Obama, incandescent light bulbs are demonized relics of the bad old days.  Google higher-ups won't want to get on the bad side of their good friend or confuse the kids who won't recognize something that lights up and doesn't look like a curly fry from Arby's.
Edison's invention is essentially banned by law in 2014.  The last big GE light bulb factory in the United States closed last year.  At the time Congress was considering it's legislation to nudge — no, push — Americans into using potentially harmful compact fluorescent light bulbs, then-candidate Obama warned: "I will immediately sign a law that begins to phase out all incandescent light bulbs."
So consider today's celebratory Google logo as a "last chance to see" moment.  And perhaps Google should, to smooth things over with the White House, prepare a logo celebrating the birthday of Ed Hammer — the father of the CFL — whenever that is.
This post was amended to note that it was the last major U.S.-based light bulb factory operated by GE that closed last year.