01 Jun 2011

Another Version of the Global Warming Story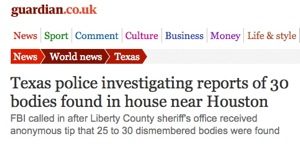 News outlets breathlessly reported the discovery of dozens of bodies buried near Hardin, Texas.
Tragically, "possibly all children."
Turns out – no bodies.
A "psychic" had said bodies were there. Authorities and media chose to believe her because she "had details of the interior of the house."
Strong evidence, that.
Now officials and the news media look foolish, but at least the country didn't spend billions on cap-and-trade.