04 Jun 2011

Deneen Borelli to Appear on Fox Saturday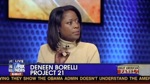 Project 21's full-time fellow, Deneen Borelli, is scheduled to appear on Fox News' America's News HQ today at 4:40 pm EDT.
Deneen will be part of a panel discussing current events.
Deneen fans who can't catch her broadcasts live can usually catch them later, as we archive most of them on the National Center for Public Policy Research's SunnyDayAmerica YouTube channel. The National Center sponsors Project 21.