07 Jun 2011

Christie Takes New Jersey Out of Job Killing Regional Cap and Trade Agreement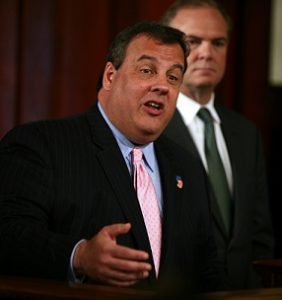 While I, along with Forbes' James Taylor, question the science behind NJ Governor Chris Christie's assertion that "climate change is occurring and humans play a contributing role," champions of sound science and free markets still have reason to applaud Christie.
Late last month, the Republican governor—with some Democrat support—announced that his state would be backing out of the Regional Greenhouse Gas Initiative (also known as RGGI or "Reggie"), the agreement struck by ten northeastern states to cut greenhouse gas emissions from power plants ten percent by 2018. In his announcement, Christie cited the fact the program does little to decrease greenhouse gas emissions and that the cost of the CO2 permits is simply a tax in disguise that gets passed along to ratepayers.
The Franklin Center's New Jersey Watchdog details why the cap "Reggie" places on emissions is ineffective—it's been beat to the punch by the free market. According to the Watchdog, the 188 million-ton cap set by the initiative is too high to have much effect, as carbon emissions by electric power plants in the ten-state region totaled just 123.7 million tons in 2009. This is due to the fact that electric generators switched to natural gas, a cleaner-burning fuel that has become cheaper in recent years. For example, the price of natural gas dropped 42 percent since 2005, while the cost of coal and petroleum rose 40 percent and 34 percent, respectively. Additionally, the stagnant economy, cooler summer weather, and unspecified increases in energy efficiency have caused a seven percent decrease in demand for energy from 2005 to 2009.
As part of its own efforts to back out of "Reggie," Delaware's Caesar Rodney Institute brings up the futility of the goal when placed in a global context. "The combined ten state goal is to reduce emissions by 18.8 million metric tons/yr. China increased CO2 emission by 1.4 trillion metric tons from 2004 to 2008 so the decade long reduction goal is replaced by China every half hour," they write.
What has this drop in the bucket cost New Jerseyans? "The state's bill for cap and trade has already exceeded $100 million in costs—mostly imposed on power plants and largely passed on to families and businesses," says a recent Wall Street Journal editorial.
The Wall Street Journal also points out tangible effects of "Reggie" on business in the Garden State. Ocean Spray Cranberries announced last month that it would move operations at its oldest plant, in Bordentown, NJ, to Pennsylvania, which had the economic foresight not to join the initiative or any other cap and trade consortium:
Ocean Spray spokesman John Isaf says that operating in Pennsylvania will save about $15 million a year mostly in 'lower utility and transportation costs, taxes, and other operating expenses' and that these savings were 'too large to ignore.' Industrial electricity costs in New Jersey in January averaged 12.04 cents per kilowatt hour, or almost 50% more than the 8.15 cost in Pennsylvania and almost twice the national average of 6.73. New Jersey's mandate that by 2021 22.5% of electricity must come from costly renewable energy has also raised costs, but cap and trade has made the problem worse.
These cap and trade horror stories, however, are only the beginning. Increases to future ratepayers' bills are unclear, as anyone, including out-of-state speculators, can participate in the carbon credit market and drive the permit prices up. In fact, as the American College of Environmental Lawyers pointed out back in 2008, energy producers are rightly concerned that radical groups with deep pockets, like the National Resources Defense Council, could purchase permits and take them off the market entirely. This means that the potential for future rate increases is limitless, as there is no cap on the bidding of C02 permits.
With signs pointing to sharp increases in future energy rates for ratepayers in the remaining "Reggie" states and the left planning to use the failed initiative as a model for possible future federal legislation, this is clearly an issue that needs to be monitored.