07 Jun 2011

Three "Pinocchios" Awarded to Obama for Telling Whoppers – by Washington Post!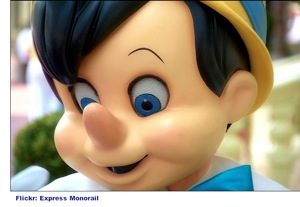 "What we found [in President Obama's speech about Chrysler] is one of the most misleading collections of assertions we have seen in a short presidential speech. Virtually every claim by the president regarding the auto industry needs an asterisk, just like the fine print in that too-good-to-be-true car loan."
That, believe it or not, is from the Washington Post.
The article that follows is funny and factual.
For example:
Let's look at the claims in the order in which the President said them.
"Chrysler has repaid every dime and more of what it owes American taxpayers for their support during my presidency — and it repaid that money six years ahead of schedule. And this week, we reached a deal to sell our remaining stake. That means soon, Chrysler will be 100 percent in private hands."
Wow, "every dime and more" sounds like such a bargain. Not only did Chrysler pay back the loan, with interest — but the company paid back even more than they owed. Isn't America great or what?
Not so fast…
Read it all here.