23 Sep 2011

Liberal Journalist Attacks Obama Critic's Credibility, but Praised Same Author When He Criticized George Bush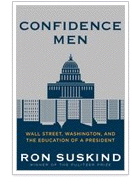 Slate magazine's Jacob Weisberg wrote a column yesterday intended to discredit former Wall Street Journal reporter Ron Suskind. Suskind has just written a book, "Confidence Men," that portrays President Barack Obama in a negative light.
Weisberg begins: "As an editor, you develop a B.S. meter — an internal warning system that signals caution about journalism that doesn't feel trustworthy." Weisberg goes on to equate Suskind to Weisberg's infamous former colleague at the New Republic, Stephen Glass.
Apparently, Weisberg only turns on his B.S. meter when it suits his purpose.
Following the 2004 release of Suskind's book "The Price of Loyalty: George W. Bush, the White House and the Education of Paul O'Neill," which eviscerated President Bush and his administration, Weisberg apparently thought Suskind to be a quite credible source.
The first words of Weisberg's interview are these: "Ron, you've got a great story here…" and the next words were not, "I really enjoyed your novel."
To the extent that Weisberg is critical in the interview, he is not critical of Suskind, but of Paul O'Neill. You can listen to the full interview here here.
No B.S. meter is required. Weisberg's words come shovel-ready.