23 Sep 2011

Project 21's Borelli on Fox News Channel This Sunday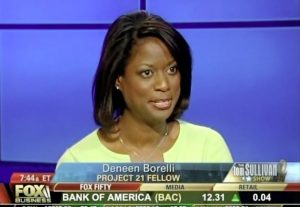 Project 21 fellow Deneen Borelli is scheduled to participate in the "Power Panel" during 4:00PM eastern hour of "America's News Headquarters" on the Fox News Channel. The approximate time for Deneen's segment, in which she and others will talk about the day's breaking news, is 4:40PM eastern.
Check your local listings for Fox News Channel on cable. Fox News is available on channel 118 on Fios, channel 205 on Dish Network and channel 360 on DirecTV.