07 Oct 2011

Greetings from Occupied D.C.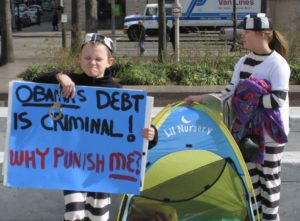 The story is that there really is no story.
After hundreds of thousands of people showed up for Tea Party rallies in Washington, D.C. in 2009 and 2010, and the media largely tried to ignore them, the left-wing Occupy D.C. movement is now getting a lot of coverage — including acknowledgement of activism happening nationwide from President Obama.
Today's Washington Post devoted an article ("'Occupy' Fervor Reaches Freedom Plaza") and Petula Dvorak's column ("Anti-Wall Street Protesters Find Sympathy in D.C.") on the front page of the Metro section to all the anti-corporate, anti-government activism.  The front page teased the stories inside.  Photos fixated on activists over the age of 65.
I decided to brave a foray into occupied territory — McPherson Square.  That is the rally point of Occupy D.C., and their web site advertised a noontime assembly.
In a word, I was underwhelmed.  I guess all the jobs activists were at work.  What looked like SEIU minders were casing the encampment as I arrived, but they left pretty quick.
There were about two dozen people there for the assembly.  They were definitely the D.C. faction of the Occupy Wall Street group because the started their assembly with the same call-and-response speaking style.  But it was only a minute before they realized how silly they sounded.  They quickly downsized to just one person talking while the rest listened intently.
And none of them seemed to be over 50.  Or even 40.
Despite their small size, however, they seemed hard at work on trashing the park.  Cleanliness is one of the virtues of the Tea Parties, by the way.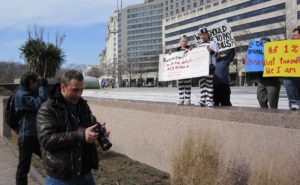 I was wondering if these were just the lame ones.  I figured there must be roving bands of wild-eyed occupiers elsewhere.  So I checked out the White House.  They weren't there.
Well, Concepcion was there.  But she's been occupying Lafayette Park since 1981!
And then there was this guy occupying the rear of the park.
And this guy.  Good luck with that.  But not an Occupy D.C. activist to be seen!
They weren't outside the U.S. Chamber of Commerce like they were widely-reported as being yesterday.
I did find some older people, but they weren't protesting the status quo.  They were waiting for the tour bus to pick them up.  And they outnumbered the forces of Occupy D.C.!
The people waiting in line at the food trucks in neighboring Franklin Square outnumbered D.C.'s occupation army of the people — and more diverse.  I highly recommend this truck.
But please, don't take it from me.  I might be biased because I've been a participant in Tea Party rallies.  Check out their own photos that they've proudly posted on their web site.
When they control the camera, they can't even show big numbers.  Ever hear of cropping for effect?
Don't believe the hype.  The occupation of D.C. is a hoax.