25 Jan 2012

Project 21's Stacy Swimp to Interview South Carolina Attorney General Tonight — Listen Live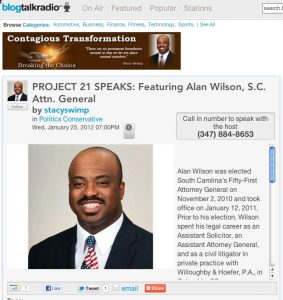 Project 21 member Stacy Swimp is scheduled to interview South Carolina Attorney General Alan Wilson on Wednesday, January 25.  The interview will be broadcast on the "Project 21 Speaks" segment of Stacy's "Contagious Transformation" show on blogtalkradio.
The show airs live at 7:00PM eastern.  To listen live, or later as a podcast, click here.
Stacy says the topics slated for discussion tonight include the state's voter identification law and the federal challenge to it, immigration reform and South Carolina's participation in the U.S. Supreme Court challenge to Obamacare.