27 Mar 2012

Report from Today's Capitol Anti-ObamaCare Rally
The National Center street team actively participated in today's Americans for Prosperity "Hands Off My Health Care" rally in Upper Senate Park on the U.S. Capitol grounds.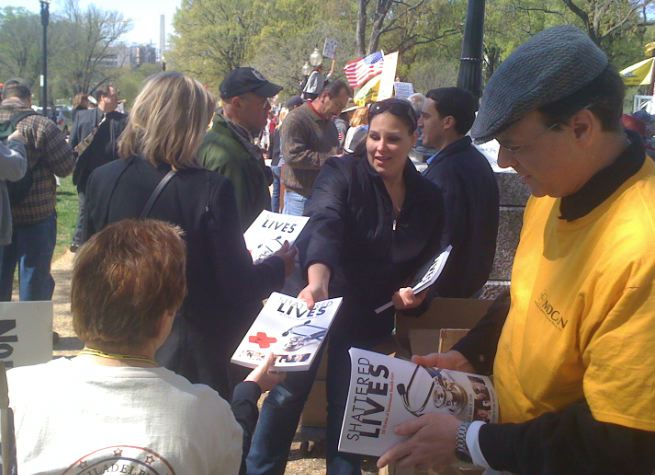 As in past mass public events against ObamaCare, National Center staff handed out copies of its very popular "Shattered Lives" book that chronicles socialized medicine horror stories in other countries.
Demand for the book today was intense, with staffers such as National Center director of development Steven Thomas passing out several hundred copies.
Our stock ran out just 30 minutes into the event!
This lucky woman left with a copy.  So did Representative Allen West.
A free digital copy of the National Center's "Shattered Lives" can be downloaded by clicking here.
Thousands attended the rally, which began just minutes after the U.S. Supreme Court ended its second day of arguments concerning the constitutional challenge to ObamaCare from 26 state attorneys general.
National Center Internet consultant Jennifer Biddison shows her support for getting government out of the exam room and putting the medical decision-making process back into the hands of experts.
Jennifer was later interviewed about her views by Kathryn Serkes, the founder of the Doctor Patient Medical Association.
I was also interviewed about my views regarding the nationalization of health care in America.
That is, when I wasn't hanging out with Senator Jim DeMint.
Hundreds of books, many interviews and lots of public interaction later, the National Center street team arrived back at the office to learn that today's arguments reportedly went poorly for President Obama's solicitor general — leading some legal eagles to proclaim the individual mandate at the heart of ObamaCare will be declared unconstitutional.
So this guy's concern might just stay a part of science fiction and not a way of life in America after all.