01 Aug 2012

Don't Believe the ACLU
The opening ceremonies of the XXX Olympiad kicked off last Friday night in London.
It was a spectacle of the bizarre that largely highlighted liberal director Danny Boyle's personal politics.  Despite the myriad complaints rightfully lodged about the opening ceremony – including one Conservative Member of Parliment who tweeted that the $42.4 million show was "multicultural crap" – it wasn't all bad.  At least Boyle was thoughtful enough to throw in some lines from Shakespeare.
Actor Kenneth Branagh recited:
Be not afeard. The isle is full of noises,
Sounds, and sweet airs, that give delight and hurt not.
Sometimes a thousand twangling instruments
Will hum about mine ears, and sometime voices
That, if I then had waked after long sleep
Will make me sleep again; and then in dreaming
The clouds methought would open and show riches
Ready to drop upon me, that when I waked
I cried to dream again.
One Bard scholar thought those lines – from Shakespeare's "The Tempest" – didn't fit with the opening ceremony.  Perhaps "[O]nce more into the breach, dear friends, once more … The game's afoot: Follow your spirit, and upon this charge Cry 'God for Harry, England, and Saint George!'" would have been more fitting.
Either way, on this side of the pond, it struck me that the attorneys for the American Civil Liberties Union should brush-up on the Tempest and "be not afeard."
The ACLU fears that democratically-elected officials are passing state-level voter integrity measures because they want to keep millions of Americans from voting in the November election.  Everywhere they look, ACLU attorneys seem to see voter suppression – and they are afraid.
They want you to be afraid too.  It's scary stuff to hear them discuss it.  Too bad it's a lie.
In a legal complaint filed in a Pennsylvania case that began last Wednesday, the ACLU claims that the Commonwealth's new voter ID law "will lead to elections that are no longer free and equal."  Scary indeed.
The new Pennsylvania law requires in-person voters to present a current photo ID.  Acceptable forms of ID include driver's licenses, military IDs, school IDs from accredited Pennsylvania colleges and universities, government ID badges, passports and Pennsylvania care facility IDs (the law also has religious and indigent exceptions and permits provision ballots).
According to a Pennsylvania Departments of State and Transportation study done in early July, as many as 750,000 folks lack proper ID.  The mainstream media jumped on the report as proof that "voting right [are] at risk" and called it "an apocalypse to watch out for."  To arrive at its 750,000 number, the Pennsylvania departments compared the voting roles with the driver's license list.
It would be scary if Pennsylvania really planned to turn away 750,000 eligible voters.  But that isn't true.
National Center Executive Director David Almasi investigated the report – something the mainstream media neglected to do since the results may have harmed the pre-existing progressive narrative – and found that the report was misleading.  In a commentary published in the Daily Caller, Almasi explained:
Upon closer inspection, such reporting is much ado about nothing.  If anything, it makes a stronger case for reforming the voting process to protect against identity fraud at the polls….
It's only past these shocking leads that one learns that other forms of ID are acceptable.  Provisional ballots are available.  Furthermore, a substantial portion of the names on the list may not even be eligible voters.
Even in light of Almasi's report, the Commonwealth of Pennsylvania took even more steps to assist its citizenry in obtaining proper ID.
In August, Pennsylvania will begin handing out free voting-only ID cards to residents.  The Pittsburgh Post-Gazetteexplains that:
The new ID card will be available… for voters who are not able to provide all of the documents, such as a birth certificate, that they would need to obtain other state-issued photo IDs.
A Department of State spokesman, Nick Winkler, said the option will apply largely to residents without photo ID who were born out of state, who may have difficulties acquiring a copy of their birth certificate.
In order to receive the free ID card, registered voters must give their Social Security number and date of birth and show two documents proving their residence, such as a utility bill.
This free ID card will be good for ten years.  Not good enough, says the ACLU.  They are still scared.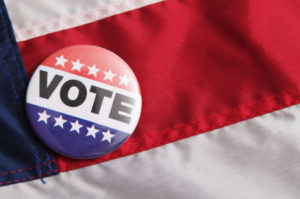 According to the ACLU, more than one million Pennsylvania voters are still "at risk of being disenfranchised because they do not have state-issued ID."  With more than a million would-be disfranchised voters, surely the ACLU presented the court with hundreds of legitimate hardship stories of individuals who simply have no earthly way to obtain an ID, but are otherwise entirely eligible to vote.  They did not.
The ACLU (along with the National Association for the Advancement of Colored People and other liberal groups) filed the lawsuit on behalf of only ten named plaintiffs.  And every last one of them has, or can likely obtain, a valid photo ID prior to the November election.  To claim otherwise is a lie.
Since all the plaintiffs have or can likely obtain an ID, the judge should dismiss this case for lack of standing.  In order to petition a court, a party must have a grievance that is in the court's purview to redress.  These complainants do not.  Of the ten plaintiffs, two have valid photo IDs.  They can vote.  One is an able-bodied transgender of sufficient means to get to a DMV for a new photo.  He can vote.  One is living in an assisted care facility that can provide her an ID.  She can vote.  As for the other six, they can all presumably obtain free voter-only IDs offered by Pennsylvania.
These plaintiffs should have never even had their day in court.  If the ACLU and NAACP actually cared about helping these plaintiffs vote, instead of parading their sob stories to the witness box, they should have used their resources to drive them to local DMVs to pick up free state-issued IDs.  If they needed assistance obtaining documentation for those IDs, it would be a better bargain to help those few than waste taxpayer money on a frivolous lawsuit.
If the judge punts the standing issue, the ALCU's case should still be dismissed because it is contrary to clear United States Supreme Court precedent.  Furthermore, its legal arguments rest on flawed data.
In 2008, the United States Supreme Court validated an Indiana voter ID law against claims that it would unconstitutionally disfranchise hundreds of thousands of voters.  The new Pennsylvania photo ID law is substantially similar to Indiana's law, and is – in many ways – even more lenient.
In Crawford v. Marion County Election Board, the Court ruled that, "[t]here is no question about the legitimacy or importance of the State's interest in counting only the votes of eligible voters… the inconvenience of making a trip to the BMV, gathering the required documents, and posing for a photograph surely does not qualify as a substantial burden on the right to vote."
In his majority opinion, liberal Justice John Paul Stevens wrote that Indiana's voter ID law was "unquestionably relevant to the State's interest in protecting the integrity and reliability of the electoral process."  He explained: "evenhanded restrictions that protect the integrity and reliability of the electoral process itself are not invidious." (Internal citations omitted).
So, for the ACLU's lawsuit to succeed, their lawyers will need to differentiate the situation in Pennsylvania from that in Crawford.  Except they don't.  Nowhere in their 54-page complaint does the ACLU legal team even address Crawford.  Instead, the ACLU claims that Pennsylvania has no legitimate interest to protect since the Commonwealth is not presenting evidence of in-person voter fraud.
The ACLU complaint harps on Pennsylvania officials for not producing concrete examples of in-person voter fraud to justify the voter ID law.  However, the Crawford opinion explained that this is not a required element for a voter ID law to be valid.  Justice Stevens wrote that "flagrant examples of such fraud in other parts of the country have been documented throughout this Nation's history by respected historians and journalists … not only is the risk of voter fraud real but … it could affect the outcome of a close election."
The Court upheld the Indiana law even though it acknowledged: "[t]he record contains no evidence of any such fraud (in-person voter impersonation) actually occurring in Indiana at any time in its history."  Crawford makes clear that Pennsylvania has no duty to provide concrete examples of in-person voter fraud.  Rather, the real threat of voter fraud combined with a non-discriminatory photo ID law is constitutionally sufficient.  So this ACLU argument against Pennsylvania has no merit under clear Supreme Court precedent.
The ACLU also alleges that Republicans voted in favor of the photo ID bill for partisan reasons, therefore, it should be thrown out.  They claim Republicans wanted to lower the turnout of Democratic voting blocs and increase the likelihood that conservatives would win future elections.  They point to a silly comment from State House Leader Mike Turzai (R) who spoke about legislative victories saying, "Voter ID, which is gonna allow Governor Romney to win the state of Pennsylvania?  Done."  However, this comment, and the ACLU's argument, bears no legal significance.
In Crawford, the Court noted that:
if a nondiscriminatory law is supported by valid neutral justifications, those justifications should not be disregarded simply because partisan interests may have provided one motivation for the votes of individual legislators.
Here again, the ACLU has overlooked binding precedent.  Even if some Keystone State legislators voted in favor of the voter ID law because they hoped it would help conservatives win elections, the U.S. Supreme Court has clearly articulated that this is permissible as long as the law itself is valid.
Maybe the ACLU ignored the Crawford decision because it was afraid of that too.
With seemingly no legitimate legal arguments at its disposal, the ACLU complaint turns to flawed data from the Brennan Center for Justice.
The ACLU cites the Brennan Center's 2006 report "Citizens Without Proof" for the proposition that 18 percent of elderly Americans, 25 percent of black adults and 16 percent of Latino adults do not have government-issued photo IDs.  They also cite the Brennan Center study as evidence that 34 percent of voting-age women in the United States do not have ready access to proof of citizenship that shows their current legal name.
These stats have been thoroughly debunked.  The National Center's GroupSnoop.org Brennan Center profile explains:
In August 2011, Hans A. von Spakovsky and Alex Ingram of the Heritage Foundation critiqued "Citizens Without Proof," saying it is "both dubious in its methodology and results and suspect in its sweeping conclusions."  Spakovsky and Ingram pointed out that the Brennan Center used biased questioning to obtain their desired result – thus overestimating the number of eligible voters without proper identification.  According to the Heritage Foundation scholars, "the authors of the Brennan Center study appear to have pursued results that advance a particular political agenda rather than the truth about voter identification."
Along with the ACLU and the NAACP, the Brennan Center is one of the country's leading opponents of voter integrity measures.  However, Brennan Center work is tainted by its funding and obvious biases.  In a press release announcing the new Brenan Center profile for GroupSnoop.org, I commented that:
clouding the Brennan Center's reputation is that convicted felon George Soros' Open Society Foundations have funneled over seven million dollars to the Brennan Center since 2000.  It is no wonder the Brennan Center works so hard on a daily basis to provide intellectual ammunition to those fighting voter integrity measures.
I further lambasted the mainstream media for presenting Brennan Center work in news articles without proper vetting.  I explained:
it is troubling that the media – which increasingly seeks to "fact-check" political speech – is not reporting that the Brennan Center is an advocacy organization.  This need for scrutiny is increasingly important given that the Brennan Center is willing to say that lawmakers supporting ballot protection legislation do so out of racial animosity and political maneuvering.
Brennan Center work should be presented as opinion – if it is considered at all.  The Brennan Center is a George Soros-funded extreme advocacy group that appears willing to fight all meaningful efforts to combat voter fraud.  It should be regarded as such.
By relying on Brennan Center work, the ACLU is signaling that it has no case, doesn't care about accuracy, or both.  Whatever the case may be, the judge should uphold the Pennsylvania law as a constitutional, commonsense measure to protect against voter fraud.  Groups like the Brennan Center and the ACLU are not necessarily directly committing voter fraud, but their efforts give an academic veneer to those individuals who would steal votes.  They should be stopped.
The ACLU should not be afraid of voter suppression, and neither should you.  It does not exist in these voter ID laws.  The ACLU lawsuit against Pennsylvania is a frivolous exercise against commonsense.
As I explained in a press release last Friday, "The ACLU complaint ignores Supreme Court precedent, refers to several absurd 'victim' sob stories and is predicated on a refuted report from the highly-partisan Brennan Center.  The judge should summarily dismiss the ACLU's complaint and allow the Commonwealth to protect its citizenry's sacred right to vote."