01 Oct 2012

GenOn Turns Off in Northern Virginia
When residents in the D.C. area awoke on Monday morning, they probably had no idea they are now at a greater risk of being forced to endure the future discomfort of rolling blackouts or worse.
At midnight, GenOn's Potomac River Generating Station, a 482-megawatt coal-fired power plant in Old Town Alexandria, officially shut down.  After years of opposition from its NIMBY neighbors as well as attacks from liberal politicos and deep-pocketed green lobbyists, the plant is now officially transitioning into a year-and-a-half of shutdown and clean-up operation.  It's now a energy taker instead of a maker.
Victors, including Alexandria Mayor Bill Euille, gathered at the now-idle plant's front gate to spike the football.  Euille earlier told the Alexandria Gazette Packet: "This is a day we've been looking forward to for a long time, and it's long overdue."
Only in a liberal bastion such as Alexandria can a politician up for election in a little over a month openly and enthusiastically celebrate the loss of 120 local jobs and the possibility of uncomfortably hot summer days and cold winter nights in the years to come.
Critics of the plant called the 63-year-old facility outdated and dirty.  Yet the various owners of the plant over the last few years spent millions of dollars to abate those environmental concerns.  They've beautified the surroundings of the plant — sometimes to the consternation of those who wanted it to be more of an eyesore to buttress their arguments against it.  Its stacks are short and it cannot be readily seen from most places in Old Town (especially the tony shopping and restaurant district).
The plant was maligned as unnecessary.  While it was responsible for an estimated five percent of the region's electricity around the time of its closure, this past summer saw the plant running for 72 consecutive days.  That's three months of power it won't be generating next summer.  Or this coming winter — which is predicted to be severe for the D.C. area.
Back in 2005, emissions concerns did lead the Virginia Department of Environmental Quality to close the plant for a time.  It was missed.  A lot.  The closure was later reversed by demands from the U.S. Department of Energy and D.C. government that they needed the Potomac River Generating Station back in operation to meet the need for power in the nation's capitol.
But even the most recent upgrades couldn't match the constant assault by angry locals, new anti-coal federal regulations and the well-heeled Sierra Club anti-coal campaign bankrolled by a personal $50 million donation from New York City Mayor Michael Bloomberg.  GenOn, the power plant's current owner, threw in the towel.  They saw the writing on the wall.  To make sure it was known that Potomac River Generating Station was a major target, Bloomberg's press conference announcing his hefty donation to the Sierra Club campaign was held on a boat floating past the plant.
Typifying altruistic environmentalists who don't think the Potomac River Generating Station will be needed the next time air conditioning units are running at full blast or when schools and government snow closures are straining the power grid (something that did once shut down D.C. in the early 90s) is Gregory C. Staple.  Last year, Staple — CEO of the American Clean Skies Foundation — said that he believed suburban mommies and stalwart business owners "are willing to reduce demand during peak periods."  For those who lived in the Carter era, this means put on a sweater.  For those who lived through that early 90s D.C. storm, it meant near martial law when the mayor ordered businesses to close or risk being fined.
There's no "smart grid" yet.  The government can't yet reach into peoples' homes at will and regulate their energy habits.  Yet.  That means a strain on power will be community-wide — with everyone sharing the discomfort should the grid be overtaxed and the Potomac River Generating Station isn't there to take up the slack.
There's also the coming problem with misguided Alexandria NIMBYs — who mostly moved into the now-gentrified area long after the plant opened — who seem to think GenOn can sweep out all the coal and residents can begin boarding their unicorns on the $54.7 million, 25-acre plot next week.  Not gonna happen.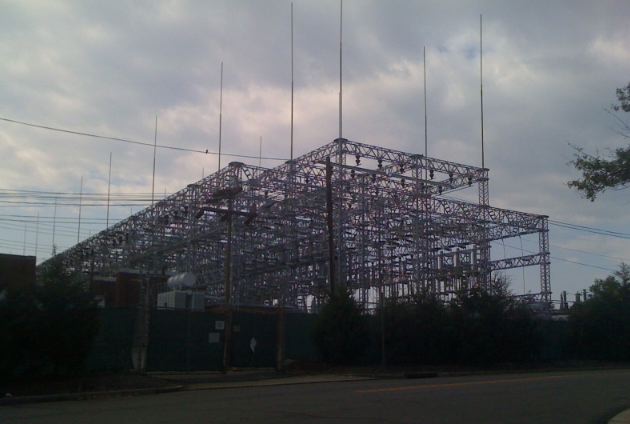 GenOn has an 88-year lease on the PEPCO-owned property.  According to the Alexandria Times, there are no immediate plans to raze any of the buildings.  And, from my own tour of the facility years ago (full disclosure: I took the tour as a private citizen on a Saturday morning in a community-oriented tour), the electrical switchyard next to the generation building won't be moving no matter what happens to the rest of the property.
Alexandria councilwoman Redella "Del" Pepper, in her celebration of the closure, exhibited NIMBYism at its worst.  She told the Washington Post that the plant "is not appropriate for our historic waterfront."  But, as the Post points out, all that's left to remind people of the days when Alexandria was a major "historic" colonial-era port are a few old warehouses (not of colonial age).  What Pepper and her supporters want are "historic" bike trails, "historic" chic waterfront restaurants and "historic" history museums.
Perhaps GenOn can repurpose the land for a wind farm.  Surely, clean alternative energy would be welcomed in Old Town.  Sure, there would be the noise, but residents would already be used to the noise of the coal-fired plant.  Occasional chunks of ice being flung off a turbine and crushing peoples' cars or roofs are likely preferable to coal emissions.  A wind form won't generate nearly enough power as the coal plant, but it would show that Alexandria is on board for the coming green energy economy.
There is a coming green economy, right?
Until then, we'll just need to shop for sweaters.