16 Jan 2013

National Center Hosts Luncheon For Jim Burling, Property Rights Champion

The National Center for Public Policy Research hosted a luncheon in Washington, DC January 16th for Jim Burling, Director of Litigation at Pacific Legal Foundation.

Mr. Burling was a key part of the legal team which argued an important wetlands property rights case, Koontz v. St. Johns River Water Management District, before the U.S. Supreme Court on January 15.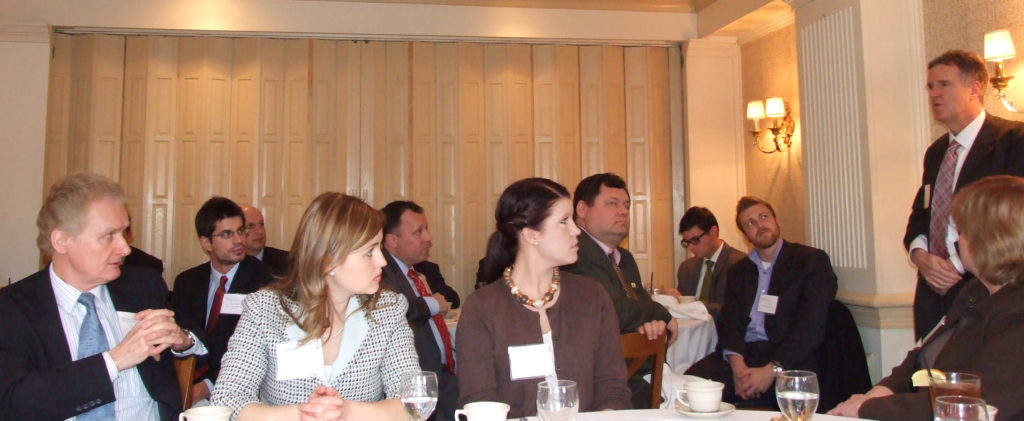 Jim Burling, right, makes a point at the National Center January 2013 luncheon.Mr. Burling is also Chairman Emeritus of the Federalist Society's Environmental Law and Property Rights Practice Group and a member of the American College of Real Estate Lawyers.  He joined Pacific Legal Foundation in 1983 and has been actively engaged in creating property rights history ever since.
Commented Teresa Platt, director of the National Center's Environment and Enterprise Institute:
We were honored to have Mr. Burling share his thoughts on the Koontz case and the history of property rights litigation in the United States.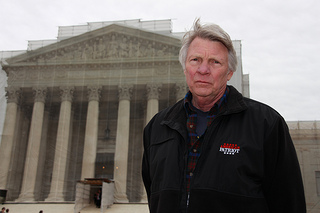 For years, the late Coy Koontz, Sr. sought to develop 3.7 acres of vacant, commercially-zoned land.  Local authorities, however, refused to issue the necessary permits unless Mr. Koontz agreed to supply money, labor and resources to improve 50 acres of government-owned property.
The Supreme Court is now considering whether such demands are reasonable or a violation of Mr. Koontz rights, a "taking" of private property for public benefit.
It has taken almost 19 years to advance this important case through the courts with the courageous Koontz family continuing the battle after the passing in 2000 of Coy Koontz, Sr.
Justin Danhof, the National Center's general counsel and director of the NCPPR's Free Enterprise Project, added:
Jim Burling's speech on regulatory takings should be given at every law school in America.  His encyclopedic knowledge of the Supreme Court's takings progeny is matched only by his passion for defending private property rights.  Too often even conservative lawyers fail to grasp the significance of the government's power to limit private property use.  If more groups possessed Pacific Legal Foundation's courage, and more litigators possessed Burling's litigation skills, America would be a freer nation.
The luncheon with Mr. Burling was the first in a series to be organized in 2013 featuring speakers of note.
Contact Teresa Platt at [email protected] for more information.
Photos: National Center for Public Policy Research.  Coy Koontz, Jr. photo courtesy of Pacific Legal Foundation.