15 Feb 2013

An Interview Rep. Cohen Probably Regrets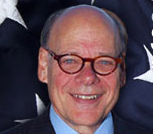 During the State of Union speech, Rep. Steve Cohen (D-Tenn, age 63) tweeted a message to a 24-year-old woman that included the letters "ilu," short for I love you.  While in some of us (I plead guilty) it conjured up the joys of the Anthony Weiner scandal, it turns out Cohen was tweeting to his 24-year-old daughter whom he only found out about three years ago.
Cohen has never been married, and that made him the lead interviewee for an article in The Hill back in 2007 about the growing number of members of Congress who are single:
Freshman Rep. Steve Cohen (D-Tenn.) has been happily married for 36 years — to his constituents.
"Having been out there so long, I used to be on the most eligible bachelors list," the 57-year-old bachelor said of his early years in the Tennessee state legislature. "I don't think you get promoted to the emeritus level. I think you become ineligible."
All pretty harmless.  Until you read a little further into the piece:
For Cohen, the idea of limiting his social life to buffer his political image was never even a consideration. Far from it, he says — he's had many girlfriends in Tennessee over the years.
Besides, as many a Washington scandal has proven, it isn't single politicians whose activities prove most controversial.
Sometimes, being married is trickier in politics than being single. While no union is perfect, public office has a way of spotlighting the cracks in a very public way.
What do you wanna bet that Cohen is considering the effect of his "many girlfriends" on his political image now?