19 Mar 2013

Harry Reid Blames Himself for Explosion that Killed Seven Marines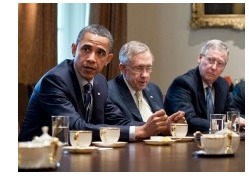 "…I believe, we should just go ahead with the sequester," Harry Reid told Wolf Blitzer on CNN's "Situation Room" on February 26.
His endorsement of the sequester was conditioned on the Republicans' continued opposition to additional tax hikes, but he knew Republicans couldn't agree to another round of tax hikes just weeks after agreeing to over $600 billion in new taxes.
This was Reid's sequester.
Today, the Senate Majority leader implied that the explosion at the ammunition depot in Nevada that claimed seven lives was due to the sequester.
"These men and women, our Marines were training there in Hawthorne… But one of the things in sequester is we cut back in training and maintenance."
Well, Mr. Majority Leader, you got your sequester. Now, seven Marines are dead as a result — Reid's implication, not mine.
Hope you can live with the guilt, Harry.