30 Apr 2013

ObamaCare: Where's The Lefty Outrage? Part V

The evidence keeps piling up that ObamaCare is going to have some very unpleasant effects for employees and employers.  And the left stays silent.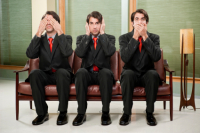 To wit:
–Adjunct professors at Virginia's community colleges are going to see their weekly hours cut from 45 to 29 or less to come under the ObamaCare definition of a full-time employee being 30 hours a week or more (employers have to provide insurance to full-time employees or pay a fine.) It will hit about one-quarter of the 9,100 adjuncts in the Virginia system.  Ann Hubbard is one who will see the credit hours she teaches cut from 45 to 27.  In response she has set up a Facebook page where "adjuncts and their allies can find out how to write to [Chancellor] DuBois, [Governor] McDonnell or even President Barack Obama appealing for an exemption that would allow them to teach full loads without forcing the state to add them to its health plan."
-Tim Wulf, who owns a chain of Jimmy John's sandwich shops in Northern Nevada, has "realized his staff of more than 100 put him right in the bull's-eye for the ObamaCare mandate."  The article continues:
So Mr. Wulf says he began cutting workers 18 months ago — and not because business was bad. He sold one of his three stores, retrained workers to handle more duties and invested in labor-saving technologies. Automated online ordering, for example, replaced the equivalent of two full-time workers. (Where are they working now, do you suppose?) Given the number of part-timers working at any sandwich shop, Mr. Wulf managed to reduce his workforce to 42 full-time equivalent workers.
-You've probably heard of some big employers wondering whether it will be cheaper to drop their insurance and put their employees in the exchanges.  Well, guess who's considering that now?  It would be the government of Washington State:
In a quest to save money, political leaders in Washington state are exploring a proposal that would shift some government workers out of their current health plans and onto the insurance exchange developed under President Barack Obama's health care law.
Lawmakers believe the change, which could affect thousands of part-time state employees and education workers, would save the state $120 million over the next two years. It would consequently push more health care costs onto the federal government because many of the low-income workers would likely qualify for federal subsidies.
Well, what do you expect from a state with a heartless, right-wing, Republican Governor like Jay Inslee…oh wait.
-Finally, Home Depot co-founder Bernie Marcus recently said, "Government regulations such as Obamacare are destroying small business."
Funny thing, there are no calls from the left for a boycott of Home Depot.  That's sure different than the treatment Darden Restaurants received.  In fact, not a peep from Salon, Daily KOS, MSNBC, Mother Jones, the Huffington Post and the other usual suspect about Marcus' remarks, let alone a call for a boycott.   In fact, none of those sites mention the Virginia adjunct professors, Jimmy John's or Washington State.
The strategy seems to be see nothing bad about ObamaCare, hear nothing bad, speak nothing bad.  At this point, that may be the only strategy they have left.