18 Jun 2013

Just Because You Are Eligible For A Premium Subsidy Doesn't Mean You Will Qualify–California Version
As I noted in a blog post about the DC Health Exchange last week, just because you are eligible for a premiums subsidy on the exchange doesn't mean you will get one.
Today I look at the average premiums in California and—guess what?—the same holds true for the Golden State's exchange, Covered California.  People earning between 133% of the federal poverty level (FPL) and 400% FPL are eligible for subsidies on the exchange.  But as the table below show, those age 40 earning 323% FPL ($37,122) or more, will be ineligible for a premium subsidy. The numbers are worse for those under age 40.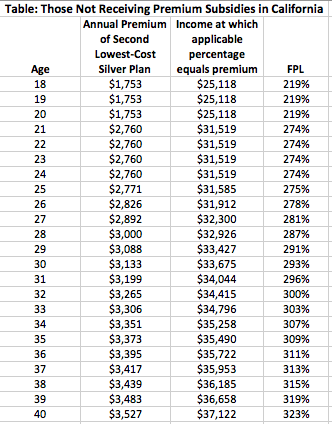 As to why this happens, it helps to understand the formula used to determine premium subsidies.  (It's a bit technical, so bear with me.)
The formula is the price of the second lowest-cost Silver plan on the exchange minus the "applicable percentage."  Under ObamaCare, the applicable percentage is the percentage of your income that you must pay toward your insurance before you qualify for a premium subsidy on an exchange.  The applicable percentage is based on a sliding-scale, starting at 2% for those with incomes at 133% FPL and rising to 9.5% for those with incomes at 400% FPL.  So, if the second lowest-cost Silver plan is $2,500 and an individual's applicable percentage equals $1,000, he or she qualifies for a premium subsidy of $1,500.  However, no premium subsidy is offered if the applicable percentage equals or exceeds the cost of the Silver plan.
That is exactly the case with, say, the 25-year-old making $35,585 annually in California.  The second lowest-cost Silver Plan and his applicable percentage are the same, $2,771.  Thus, he receives no subsidy.
Ultimately this means that many relatively young and healthy people will be paying full-price for any plan on Covered California.  And since the price all of the plans are greater than the fines for not buying insurance ($95 in 2014, $395 in 2015, $695 in 2016 and beyond), the young and healthy will have a considerable financial incentive to not participate in the exchange.  And if that happens, well, see my recent paper, "California's Coming Health Insurance Death Spiral."
Sources: Premiums from "Covered California: Health Plans & Rates for 2014," pp. 30-31.  Income and applicable percentage from Kaiser Family Foundation Subsidy Calculator.