11 Sep 2013

NOAA Predicted an Above Average Hurricane Season, But Nature May Have Other Ideas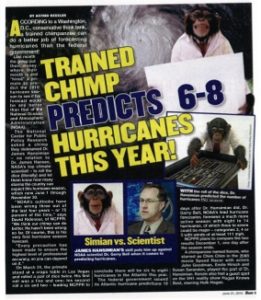 The National Oceanic and Atmospheric Administration (NOAA) predicted an "above normal" hurricane season this year, but nature may have other ideas.
The average number of Atlantic hurricanes to expect each year by September 21, today, is four.
We've had two so far this year and NOAA isn't even projecting that a tropical storm will form within the next 48 hours.
The typical historic "peak" for the hurricane season occurred ten days ago. If this year's hurricane season operates like the average of the other seasons, this would mean our hurricane potential has dropped by about 30-35%. Another week or so and it would be down another 10-15% and in another four weeks it would drop to about 20% of what it was at the peak.
Of course, since there is no reason to believe that weather cares what the average season looks like, this doesn't mean a whole lot, but it is interesting.
The Madden Julian Oscillation is currently in a phase that is not conducive to Atlantic hurricanes, so we shouldn't see a whole lot of activity over the next week or so.
Although anything could happen, we'd really need hurricane activity that shatters all the records for NOAA's start-of-season forecast of 7-11 hurricanes, 3-6 of which were predicted to be category 3 or higher, to end up on the mark. It will even be difficult for its mid-season 6-10 hurricane forecast (3-5 category 3 or higher) to be accurate.
To get to six hurricanes this season, we'll need one hurricane every 17 days for the rest of the season (69 days starting Monday and including the ordinarily quiet month of November).
So far this season, there has been a hurricane every 57 days, so we would need hurricanes to form at a pace nearly four times greater what we've seen so far this year to reach the lowest number of NOAA's mid-season 2013 hurricane forecast of 6-10 hurricanes this season.