03 Feb 2014

On DOJ's Investigation of the IRS: The Fix is In, and Here's How We Know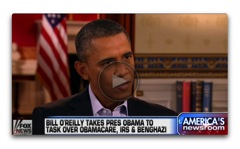 Attorney General Eric Holder says that the Department of Justice's investigation into alleged wrongdoing at the IRS isn't over and that the leaks that no charges will be brought are false, because the investigation is on-going.
Now we have the President of the United States, in a February 2 interview with Bill O'Reilly, repeating what the leak said. Namely, that there was just a lot of confusion over at the IRS and no lawbreaking… not a smidgeon of corruption.
How can both these things be right?
Either Holder lied before the Senate Judiciary Committee or Obama lied in his interview with O'Reilly.
Furthermore, I think it is absolutely stunning that in the middle of a DOJ investigation into the IRS, the President of the United States announces what the conclusion of the investigation is.
There can be no better indication than this that the fix is in.