07 Jul 2014

The Three Stupidest News Reports About Changes in Congressional Travel Disclosure Reporting Requirements

Many people seemingly are confused about actions taken by the U.S. House of Representatives Ethics Committee in regard to travel disclosures, possibly due to ridiculously misleading news reports. Because mendacity and/or stupidity this accomplished deserves recognition, I've singled out the top three most stupid, defined as the three that will leave their readers the most grossly uninformed.

The third most stupid…

#3 Susie Madrak of the Crooks and Liars blog lived up to at least half her blog's name by writing on July 1, "Congress is so corrupted by money that at this point, I shouldn't even be surprised. After all, the Republicans are in charge of the House!," which ran under this misleading headline: "House Ethics Committee Now Hides Congressional Trip Disclosures: Sneaky! When the Republican-controlled committee takes such pains to hide it, they already know it's wrong."

Fact: The House Ethics Committee is not controlled by either party; its membership is 50-50, and travel information remained easily accessible to the public and the news media, including bloggers, under the change. 0-2 for Ms. Madrak.

The second most stupid…

#2 Daniel Wright, writing on FireDogLake July 2, said, "Congress seems intent on getting its public approval rating even lower and destroying what little trust it has left. …those guardians of the republic have decided to remove the rule that requires publicly disclosing privately funded trips."

Fact: Except under the change, Members of Congress still had to disclose publicly-funded trips, and the information disclosed was promptly put on the Internet in a publicly-available, convenient, searchable form. 100% incorrect, Mr. Wright.

And the most stupid of all…

#1 John Aravosis, writing on Americablog July 1, "In a stunning reversal after three decades of public reporting, the Republican-controlled US House of Representatives will no longer require members of Congress to disclose lavish foreign trips paid for by special interests. For three decades, the House has publicly disclosed such travel. That rule has now changed under John Boehner…"

Completely false, which is ironic given this blog's motto, "A great nation deserves the truth."

Facts:

The House Ethics Committee, a bi-partisan body, approved a rule change that removed the requirement for travel disclosure on annual disclosure forms, deeming it duplicative, as Members of Congress and staff must report all such travel within 15 days of any trip, and those reports are promptly placed online by the House Clerk's office.

Here's how easy it is to read the reports.

Search for the House Clerk on Google and click where indicated:

Then click where indicated: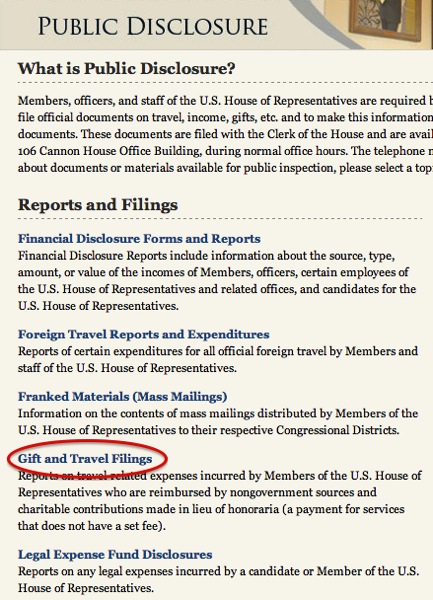 Look on the left side of the page if you want to download the reports chronologically:
Or look on the right side if you prefer to contact the office directly or search for specific Members of Congress, specific travel destinations, specific sponsors or specific travel dates:
Easier than waiting for an annual report, wouldn't you say? And the data is hardly hidden. Bellyaching reporters complaining that the change "made it harder" for reporters to find travel disclosure data were essentially complaining about a URL change, and even then, what sort of reporter doesn't even know to check the House Clerk's website? Or to Google something like "House of Representatives travel disclosure information"?
I doubt many people are more in favor of travel disclosure reporting than I am. In both 2002 and 2003, a Member of Congress took a trip and falsely reported that this organization paid for it. We had no idea. In those days learning about Congressional travel required going to the Capitol and looking through paper forms, and who goes to the Capitol to see if a Member of Congress or two that one has never even met has put you down as a travel sponsor? The resulting legal fees were astronomical. What limited Congressional travel we've sponsored has all been properly disclosed, and even then, it was subject to gross misreporting (by journalists, yes, but not exclusively: the minority staff of the Senate Finance Committee, directed by Max Baucus (D-MT), told the IRS it should audit us to see if we were more properly classified as a travel agency than a think-tank because we'd sponsored two Congressional trips, one Member each, in our then-24-year history; the subsequent IRS audit, which cleared us, took four years). So I'm in the perhaps unusual position of supporting disclosure because the more of it there is, the more honest people will be protected from bad journalists and other miscreants.
But back to current events. Prompted, no doubt, by the hysterical and misleading reporting about what its rule change really was, the House Ethics Committee announced on July 3 that it was reversing the rule change. People who want to go to the House Clerk's office or website and get the information soon after each trip ends will still be able to do so — but those reporters who want to wait for annual disclosures so they don't have to change a URL in their browser's bookmarks will still be able to do it the old way. Just a bit later than everybody else.