10 Dec 2014

Eight Lies Told by ObamaCare Supporters: Being Able to Keep Your Insurance to Fabricating Numbers of the Newly Insured

Press Release: Eight Lies Told by ObamaCare Supporters: Being Able to Keep Your Insurance to Fabricating Numbers of the Newly Insured
Washington, D.C. – "Jonathan Gruber's attempt at contrition on Tuesday would be more credible if he hadn't compounded his lies," said Dr. David Hogberg, senior fellow at the National Center for Public Policy Research. "But using lies to promote ObamaCare has been part and parcel of the strategy of this Administration and its allies."
In a new National Policy Analysis paper entitled "Eight Lies Told By ObamaCare Supporters," Dr. Hogberg chronicles the fabrications that the Administration and its supporters have propagated to sell this law.
"There is always some shading of the truth in politics," says Dr. Hogberg, "but this goes beyond that. Rather, these are examples of President Obama or one of his supporters knowing that the truth was 'A' but telling the public it was 'B'."
The most notorious lie is, of course, "If you like your health care plan, you can keep your health care plan."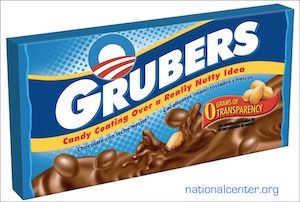 "That claim was no longer plausible after an analysis by the IRS in June 2010 showed that the grandfather regulations would result in millions losing their insurance," says Dr. Hogberg. "But President Obama repeated that claim at least six times after June 2010."
Gruber, one of the architects of ObamaCare, has come under fire for saying that only people who bought insurance through state-based ObamaCare exchanges are eligible for premium subsidies and not people who buy through the federal exchanges. On Tuesday he claimed that people in state exchanges would be the only ones eligible for subsidies if the federal government didn't establish a federal exchange: "The point I believe I was making was about the possibility that the federal government, for whatever reason, might not create a federal exchange," Gruber said. "If that were to occur, and only in that context, then the only way that states could guarantee that their citizens would receive tax credits would be to set up their own exchanges."
"That doesn't even pass the laugh test," said Dr. Hogberg. "There was never any legitimate concern that the Federal Government wouldn't set up exchanges, so why would Gruber worry about that? He wouldn't. If he was worried, he would have qualified his remarks by saying that subsidies are limited to state-based exchanges only if the federal government fails to set up exchanges. But, of course, he never did that."
Dr. Hogberg's new paper exposes not only other Gruber lies, but also lies from President Obama, Kathleen Sebelius, and the Department of Health and Human Services.
In "honor" of Jonathan Gruber's Senate testimony Tuesday, the National Center also released a lighthearted parody meme, "Grubers: Candy Coating Over a Really Nutty Idea", to draw attention to the fundamental dishonesty with which the Obama White House and its allies sold ObamaCare to the public. As National Center President David Ridenour noted, "Jonathan Gruber put a candy coating around the nutty ObamaCare idea to trick people into accepting it."
The National Center for Public Policy Research, founded in 1982, is a non-partisan, free-market, independent conservative think-tank. Ninety-four percent of its support comes from individuals, three percent from foundations, and three percent from corporations. It receives over 350,000 individual contributions a year from over 96,000 active recent contributors.
Contributions are tax-deductible and greatly appreciated.
-30-