11 Aug 2015

Danhof's Criticism of Apple's Tim Cook Highlighted by Rush Limbaugh and Fox Business Network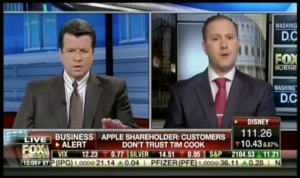 Is Tim Cook failing as the leader of Apple? He certainly seems hypocritical about gay rights when he calls Indiana discriminatory while doing business with Iran. Justin Danhof, director of the Free Enterprise Project, told host Neil Cavuto on the August 5 episode of Fox Business Network's "Cavuto Coast to Coast" that Tim Cook also does not have the trust factor that Steve Jobs had, and the company's lack of transparency about projects in development is hurting the business.
Danhof's exchange with Cavuto was picked up just a few hours later by Rush Limbaugh, who aired a portion of the segment on his show and featured it on his website.