04 Sep 2015

Yes, Obama, Premiums Are Going Up
Back in early Summer when some insurers on the exchanges requested hefty premium hikes for 2016, one lefty pundit counseled, "don't pay too much attention to scare stories about gigantic increases in Obamacare premiums next year."  One reason, he said was that a "few months from now, the real rate increases—the ones approved by state and federal authorities—will begin to trickle out."
President Obama agreed with him:
"My expectation is that they'll come in significantly lower than what's being requested," he said, saying Tennesseans had to work to ensure the state's insurance commissioner "does their job in not just passively reviewing the rates, but really asking, 'OK, what is it that you are looking for here? Why would you need very high premiums?'"
And how has that worked out?  According to the Wall Street Journal:
That commissioner, Julie Mix McPeak, answered on Friday by greenlighting the full 36.3% increase sought by the biggest health plan in the state, BlueCross BlueShield of Tennessee. She said the insurer demonstrated the hefty increase for 2016 was needed to cover higher-than-expected claims from sick people who signed up for individual policies in the first two years of the Affordable Care Act.
Several regulators around the country agree with her, and have approved all or most of the big premium increases sought by the largest health plans in their states for the new sign-up season that begins Nov. 1.
As the below graphic from the WSJ shows, of the 10 insurers asking for an average premium increase above 10 percent, half have had their rates approved by regulators, three are still pending, and only two have been denied—and one that was denied had requested a 12 percent hike and had a 10 percent increase approved by regulators.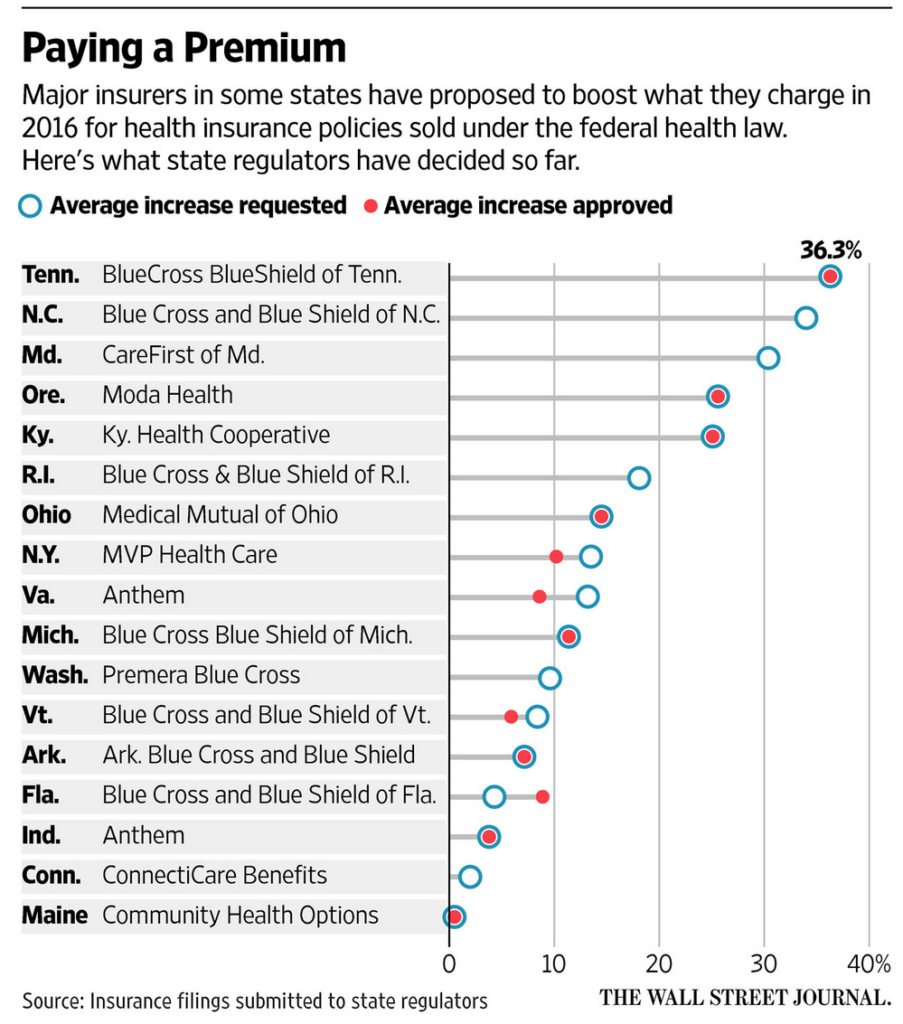 As I warned, "Ignore the premium hikes at your own risk."