30 Jan 2017

Why I Marched

I have always been pro-life, and I grew up in the D.C. suburbs.  Yet until last week, I had never attended the March for Life.  Why did I go this year?  Two important reasons:

1.  I wanted a place where I felt I belonged. Though several of my pro-life colleagues attended the Women's March on Washington the week before, despite having their sponsorships revoked, I believed that the vast majority of Women's March participants would despise my participation.  That's a shame, and a strange strategy.  If liberal feminists really want to make electoral gains in four years, it doesn't make sense to immediately tell half of American women that they can't be part of their clique because abortion opposition doesn't meet their litmus test for being a feminist.

2.  I wanted my children to attend the March for Life, and due to the end of the marking period, my kids were off school last Friday.  A full day in D.C. with a double stroller and complaining kids was difficult, to be sure, but I am so glad they came with me.

My oldest child is nine, and due to my work with my local pregnancy resource center, we have already had many conversations about abortion, the difficult choices facing women in crisis, and why it is important to stand for life.  I wanted her to be witness to the March.

My second child is seven and on the autism spectrum.  He had no idea what the March was about, but it was important for me to have him be a living testimony to the value of ALL human life.  About 2/3 of American women choose to have an abortion after learning their child may have Down's Syndrome.  In Denmark, that number is 98%, and many Danish people celebrate that Down's Syndrome is thus being eradicated from their society — through abortion, mind you, not through true medical advances.  Someday there may be a prenatal test for autism, and that will no doubt cause many autistic children to never have a chance at life.  Let me tell you, friends, parenting an autistic child can be difficult — but it can also be incredibly rewarding.  My son's life is intrinsicly and incredibly valuable, and I marched to proclaim that to the world.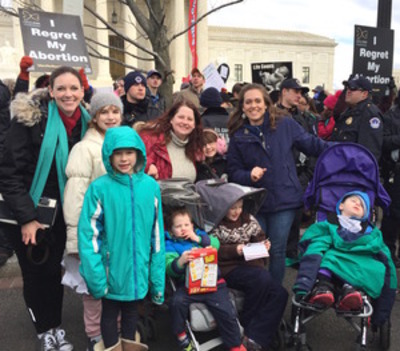 Do you know who else marched?  Let me show you in pictures.
1.  A LOT of young people!  And they were from all over the country!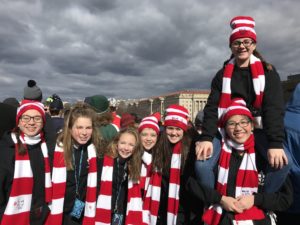 This group is from the Diocese of Springfield, IL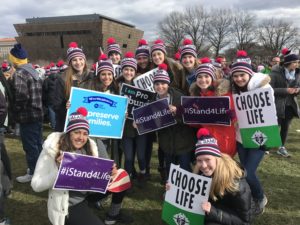 This group is from the Notre Dame Academy in Toledo, OH
This group is from Hillsdale College, Michigan.
2.  Some segments of American society that you wouldn't automatically connect with the pro-life movement!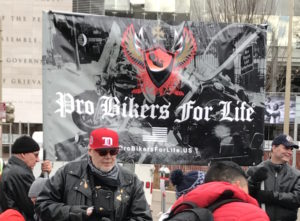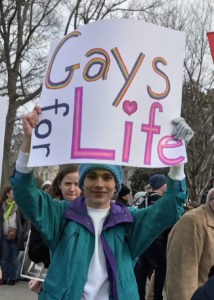 It was a peaceful, supportive march.  Instead of being jeered and harrassed by fellow women at the Women's March, I encountered thoughtful, considerate people who helped me with my stroller and cheered for each other.  I look forward to attending again in the future, and hope many of you will join me to stand for life.