22 Mar 2017

Starbucks CEO Ducks Shareholder Question About Trump Criticism

Howard Schultz Won't Explain Why He Criticized Trump Immigration Ban But Ignored Similar Obama Policy

Is Schultz Taking on President Trump to Promote His Own 2020 Presidential Ambitions?

Retiring Executive Doubles Down on Refugee Hiring Policy That Business Insider Reports Is Causing Starbucks Brand to Take 'A Beating'

Despite Denial, Starbucks Appears to Place Politics Over Profits

Seattle, WA / Washington, D.C. – Confronted at today's annual meeting of shareholders, Starbucks CEO Howard Schultz ducked a question asking him to justify his criticism of President Donald Trump's immigration policy while not opposing a similar policy during the Obama Administration. Schultz also denied that his decision for the coffeehouse giant to hire 10,000 refugees may be hurting the Starbucks brand and shareholders' investment, despite reports to the contrary.

Schultz was questioned by a representative of the National Center for Public Policy Research's Free Enterprise Project (FEP) – the nation's leading proponent of free-market investor activism. The National Center provided the lone conservative voice for shareholders among the thousands of investors and staff who attended today's Starbucks shareholder meeting.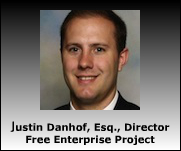 "Schultz is stepping down as Starbucks CEO next month, but the question remains if his liberal legacy will continue to haunt the company's investors," said National Center General Counsel and FEP Director Justin Danhof, Esq., who attended today's meeting and questioned Schultz. "By publicly taking on the President of the United States – perhaps for his own personal political ambitions – it appears that Schultz damaged the Starbucks brand and possibly diminished shareholder value."
Following President Trump's initial executive order seeking to limit certain travel and immigration from countries identified by the Obama Administration as posing a security threat to the United States, Schultz wrote a public note to all Starbucks employees saying that "[w]e are living in an unprecedented time, one in which we are witness to the conscience of our country, and the promise of the American Dream, being called into question." In the letter, Schultz also announced plans to hire 10,000 refugees over the next five years.
At the meeting, Danhof seized on Schultz's comments against President Trump's immigration order and the reported consumer backlash. Danhof noted:
According to Business Insider, since that announcement, "Starbucks' brand has taken a beating."
Starbucks said it would focus on hiring refugees "who have served with U.S. troops as interpreters and support personnel."
That's interesting, because ABC News reports that in 2011, after discovering two al-Qaeda members with links to Iraq operating in Kentucky, "the State Department stopped processing Iraq refugees for six months… even for many who had heroically helped U.S. forces as interpreters and intelligence assets." One Iraqi refugee, who had aided U.S. troops, was assassinated during the Obama-Clinton ban.
Danhof then asked:
How much will Starbucks' investors spend for us to properly vet refugees the federal government admits it can't afford to vet? And why were you willing to have Starbucks' reputation take a beating by attacking President Trump's executive order when you lacked the courage to speak out against the Obama-Clinton travel ban?
Danhof's entire question, as prepared for delivery, is available here. Danhof's exchange with Schultz can be viewed here.
Schultz ignored his double-standard, saying Starbucks policy is "based on principle" rather than politics. He further claimed there were no negative effects on the Starbucks brand "as a result of being compassionate." Responding to Danhof's question about vetting refugee applicants, Schultz said there would be "no additional cost" for Starbucks related to any vetting procedures.
"Government officials have admitted that they cannot vet all of the refugees being admitted to the United States for threats to the American people. Howard Schultz implied that Starbucks will similarly be turning a blind eye to the backgrounds of refugee applicants," said Danhof.
Schultz will step down from the position of CEO of Starbucks on April 3, 2017. He will continue to work for the company in the position of executive chairman. A prominent liberal activist who was suggested as a vice presidential selection by Hillary Clinton in 2016, he is "definitely being pursued" as a candidate for president in 2020, according to the Seattle Times.
"Is Schultz attacking Trump to boost his liberal credentials in advance of a potential 2020 presidential run? We don't know, but he should be upfront with the company's investors if that's the case," said Danhof. "Schultz and other critics of Trump's immigration orders are seemingly ignorant of legal realities. Some legal statutes are dense and unreadable, but that's not the case here. Whether or not you agree with President Trump's immigration orders, the law is clear."
"This shareholder meeting was more of a validation of Howard Schultz's liberal political agenda than a report to the company's investors," said Danhof. "Large portions were devoted to self-congratulation for promoting social justice rather than how the company is poised to differentiate its products in an increasingly competitive market. There was time for a musical guest, a stacked "open forum" to praise the Starbucks social justice agenda and Howard Schultz pontificating on his vision of America, but very little time for actual company business and questions from shareholders. This was a rally, not a business meeting."
This is the third National Center appearance at a Starbucks shareholder meeting. In 2016, the National Center presented a shareholder proposal asking the company to protect its employees from penalties at work stemming from their private, legal political activities. In 2014, the National Center commended Schultz for not bowing to the anti-science demands of radical environmental activists seeking to force Starbucks to purge its products of genetically modified organisms (GMOs).
Launched in 2007, the National Center for Public Policy Research's Free Enterprise Project is the nation's preeminent free-market activist group – focusing on shareholder activism and the confluence of big government and big business. Since 2014, National Center representatives have participated in nearly 100 shareholder meetings to advance free-market ideals in the areas of health care, energy, taxes, subsidies, regulations, religious freedom, food policies, media bias, gun rights, workers' rights and many other important public policy issues. The Starbucks meeting marks FEP's fourth shareholder meeting so far in 2017.
The National Center's Free Enterprise Project activism has yielded a tremendous return on investment:
FEP's highly-publicized questioning of support for the Clinton Foundation by Boeing and General Electric helped trigger an FBI investigation of the Clinton Foundation's activities that dominated the 2016 presidential campaign.

FEP inquiries prompted Facebook to address political bias against conservatives in social media.

Company executives acknowledged media bias at ABC News (Disney), the Washington Post and CNN (Time Warner) in response to FEP's challenges, which helped to bring about more objective reporting and more balanced political representation.

FEP's "Employee Conscience Protection Project" strengthened protections for the political beliefs and activities of over five million workers at 13 major U.S. corporations.
In 2016, the Free Enterprise Project was featured in the Washington Post, the Washington Times, the Fox News Channel's "Cavuto," the Drudge Report, the Financial Times, Crain's Chicago Business, the Hollywood Reporter, the Los Angeles Times, Fortune, Newsmax, the Daily Caller, Lifezette, the Seattle Times, the Quad City Times, the San Francisco Chronicle and the Chicago Tribune among many others. The Free Enterprise Project was also featured in Wall Street Journal writer Kim Strassel's 2016 book The Intimidation Game: How the Left is Silencing Free Speech (Hachette Book Group).
The National Center for Public Policy Research, founded in 1982, is a non-partisan, free-market, independent conservative think-tank. Ninety-four percent of its support comes from individuals, less than four percent from foundations and less than two percent from corporations. It receives over 350,000 individual contributions a year from over 96,000 active recent contributors. Follow us on Twitter at @NationalCenter for general announcements. To be alerted to upcoming media appearances by National Center staff, follow our media appearances Twitter account at @NCPPRMedia.
-30-