28 Apr 2017

Another "Fake Transparency" Proposal Exposed by Free Enterprise Project

Investor Alert: All Eli Lilly Shareholders Urged to Reject Proposal #6 on Company's Proxy Statement

Filed by the New York Comptroller, Proposal is Part of Left-Wing Assault on Free Speech

Health Care Giant Under Pressure to Sever Ties With Chamber of Commerce, ALEC

Indianapolis, IN / Washington, D.C. – In advance of Eli Lilly's annual meeting of shareholders, the National Center for Public Policy Research's Free Enterprise Project (FEP) – the nation's leading proponent of free-market investor activism – is urging all Lilly shareholders to vote against a proposal that promotes "fake transparency" and constitutes a threat to free speech.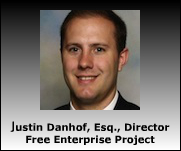 "Free speech is under attack from liberals in nearly every corner of America. While liberal efforts to silence speech on college campuses and in the media are well known, there is also a coordinated attack on corporate free speech that is being spearheaded by the likes of the New York Comptroller, " said National Center General Counsel and FEP Director Justin Danhof, Esq., who is set to represent the organization at the meeting and has attended previous Lilly shareholder meetings. "Under the guise of transparency and good governance, this liberal network launches dozens of assaults annually on corporations that dare to work with pro-business nonprofits and trade associations. We hope that Eli Lilly's investors will join with us in rejecting this insidious attack on free speech."
At Lilly's annual shareholder meeting, to be held at the company's headquarters in Indianapolis, Indiana on May 1, investors will vote on a shareholder proposal sponsored by the New York Comptroller. This proposal calls on the company to disclose all "indirect or direct lobbying" and "grassroots lobbying communications" as well as affiliations with certain nonprofit groups. Proponents claim such disclosure will increase transparency. FEP, however, says this proposal is one of many shareholder proposals put forward by leftist political activists that would curtail freedom of speech, using fake demands for transparency to target corporate affiliations with conservative groups. In its supporting statement, this proposal specifically targets the U.S. Chamber of Commerce and American Legislative Exchange Council (ALEC), groups Lilly works with to advance shareholder interests.
In the past, through shareholder proposals and targeted questions, FEP has challenged companies such as General Electric and Boeing to explain whether their charitable donations match company goals. This makes FEP uniquely qualified to call out "fake transparency" proposals such as the New York Comptroller's proposal against Eli Lilly. Danhof plans to argue during Monday's meeting that the proposal has "no relevance" and "is simply trying to use us to censor those that they cannot otherwise censor because our Constitution protects free speech." Danhof's opposition statement, as prepared for delivery, is available here.
This will be the fourth Lilly shareholder meeting in which FEP has participated. In 2016, after the company participated in a campaign against a religious freedom protection law in Indiana, FEP promoted its own Lilly shareholder proposal that asked the company to identify criteria for operating in regions with significant and systemic human rights violations.
Danhof also plans to ask Lilly CEO Dave Ricks a health-care related question. The prepared text of the question will be available here after the meeting begins.
Launched in 2007, the National Center for Public Policy Research's Free Enterprise Project is the nation's preeminent free-market activist group – focusing on shareholder activism and the confluence of big government and big business. Since 2014, National Center representatives have participated in nearly 100 shareholder meetings to advance free-market ideals in the areas of health care, energy, taxes, subsidies, regulations, religious freedom, food policies, media bias, gun rights, workers' rights and many other important public policy issues. The Lilly meeting marks FEP's eleventh shareholder meeting attended so far in 2017.
FEP activism has yielded a tremendous return on investment:
FEP's highly-publicized questioning of support for the Clinton Foundation by Boeing and General Electric helped trigger an FBI investigation of the Clinton Foundation's activities that dominated the 2016 presidential campaign.

FEP inquiries prompted Facebook to address political bias against conservatives in social media.

Company executives acknowledged media bias at ABC News (Disney), the Washington Post and CNN (Time Warner) in response to FEP's challenges, which helped to bring about more objective reporting and more balanced political representation.

FEP's "Employee Conscience Protection Project" strengthened protections for the political beliefs and activities of over five million workers at 13 major U.S. corporations.
So far in 2017, FEP has been featured in media outlets including the New York Times, Washington Post, USA Today, Variety, Newsmax TV, Associated Press, Bloomberg, Breitbart, Denver Post, Drudge Report, Business Insider, Orlando Sentinel, National Public Radio, American Family Radio and SiriusXM. In 2016, FEP was also featured in the Washington Times, the Fox News Channel's "Cavuto," the Financial Times, Crain's Chicago Business, the Hollywood Reporter, the Los Angeles Times, Fortune, Newsmax, the Daily Caller, Lifezette, the Seattle Times, the San Francisco Chronicle and the Chicago Tribune among many others. The Free Enterprise Project was also featured in Wall Street Journal writer Kimberley Strassel's 2016 book The Intimidation Game: How the Left is Silencing Free Speech (Hachette Book Group).
The National Center for Public Policy Research, founded in 1982, is a non-partisan, free-market, independent conservative think-tank. Ninety-four percent of its support comes from individuals, less than four percent from foundations and less than two percent from corporations. It receives over 350,000 individual contributions a year from over 96,000 active recent contributors. Sign up for email updates here. Follow us on Twitter at @NationalCenter for general announcements. To be alerted to upcoming media appearances by National Center staff, follow our media appearances Twitter account at @NCPPRMedia.
-30-