02 May 2017

Big Business Ignores Conservative Consumers at Its Peril

Pepsi Executives Must Understand Conservative Customer Needs and Not Dump Trump

Free Enterprise Project Warning to Pepsi CEO: "Steel Your Spine" Against Leftist Attacks for Advising Trump

New Bern, NC / Washington, D.C. – Kendall Jenner's much-ridiculed Pepsi commercial is a prime example of how the business elite is losing touch with American consumers, particularly conservatives and people of strong religious faith. At Pepsi's annual meeting of shareholders this week, a representative of the National Center for Public Policy Research's Free Enterprise Project (FEP) – the nation's leading proponent of free-market activism – will remind the beverage giant's executives that they put the company's reputation and return on investment at risk by exclusively seeking favor from liberal special interests. At the same time, he will urge PepsiCo CEO Indra Nooyi to affirm her position on President Trump's advisory panel in the face of leftist attacks.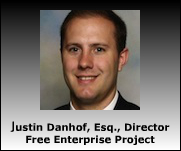 "For years, liberal groups have sought to dictate corporate relationships. The guise of the attack is transparency, but the goal is to silence free speech and defund the free enterprise movement. A coordinated network of activists supported by the likes of Ceres and As You Sow have filed hundreds of resolutions and developed pressure campaigns to make business relationships with groups such as the U.S. Chamber of Commerce, American Legislative Exchange Council, National Association of Manufacturers and other pro-business groups uncomfortable," said National Center General Counsel and FEP Director Justin Danhof, Esq., who is set to represent FEP at the meeting and attended past PepsiCo shareholder meetings. "Following the election of Donald Trump, anti-speech activists have come out of the woodwork to demand corporate leaders not work with the President under any circumstances. With those elements now apparently targeting PepsiCo CEO Indra Nooyi for her service on President Trump's Strategic and Policy Forum, we encourage her to stand strong against ideological groupthink."
Danhof intends to publicly thank Nooyi for her service on the Trump economic panel. CEOs at companies such as Walgreens and Disney have been protested for their involvement in White House efforts to fix America's stagnant Obama-era economy, and Uber CEO Travis Kalanick buckled to pressure and severed ties to the Trump Administration. Danhof will advise Nooyi to "steel your spine against such attacks." But Danhof will also warn Nooyi that ideological purity – which recently manifested itself in the tone-deaf Jenner Pepsi commercial and when companies cater to liberal demands to sever ties with helpful pro-business organizations such as the U.S. Chamber of Commerce, Business Roundtable and American Legislative Exchange Council (ALEC) – is bad for business. "Even though Pepsi and much of corporate America cherish diversity of race, sex and gender," Danhof will note, "diversity of opinion is often shunned." Specifically, ESPN, Starbucks and Target all saw harm to their brands that business experts attribute to strident liberal positioning.
PepsiCo's annual meeting of shareholders will be held on Wednesday, May 3 in New Bern, North Carolina. It will be the fourth time the National Center's FEP has participated in the meeting. At previous PepsiCo stakeholder meetings, FEP critiqued how the company leveraged its reputation – or not – on issues such as gender identification and genetically modified organisms (GMOs) as well as blasting the company's lobbying against proposed food stamp restrictions on soft drink and snack food purchases. In 2014, PepsiCo adopted FEP's shareholder resolution to enhance the company's anti-discrimination policies to protect employees from retaliation for personal political and civic activities.
Launched in 2007, the National Center for Public Policy Research's Free Enterprise Project is the nation's preeminent free-market activist group – focusing on shareholder activism and the confluence of big government and big business. Since 2014, National Center representatives have participated in nearly 100 shareholder meetings to advance free-market ideals in the areas of health care, energy, taxes, subsidies, regulations, religious freedom, food policies, media bias, gun rights, workers' rights and many other important public policy issues. This is the twelfth shareholder meeting the FEP has attended in 2017.
FEP activism has yielded a tremendous return on investment:
FEP's highly-publicized questioning of support for the Clinton Foundation by Boeing and General Electric helped trigger an FBI investigation of the Clinton Foundation's activities that dominated the 2016 presidential campaign.

FEP inquiries prompted Facebook to address political bias against conservatives in social media.

Company executives acknowledged media bias at ABC News (Disney), the Washington Post and CNN (Time Warner) in response to FEP's challenges, which helped to bring about more objective reporting and more balanced political representation.

FEP's "Employee Conscience Protection Project" strengthened protections for the political beliefs and activities of over five million workers at 13 major U.S. corporations.
So far in 2017, FEP has been featured in media outlets including the New York Times, Washington Post, USA Today, Variety, Newsmax TV, Associated Press, Bloomberg, Breitbart, Denver Post, Drudge Report, Business Insider, Orlando Sentinel, National Public Radio, American Family Radio and SiriusXM. In 2016, FEP was also featured in the Washington Times, the Fox News Channel's "Cavuto," the Financial Times, Crain's Chicago Business, the Hollywood Reporter, the Los Angeles Times, Fortune, Newsmax, the Daily Caller, Lifezette, the Seattle Times, the San Francisco Chronicle and the Chicago Tribune among many others. The Free Enterprise Project was also featured in Wall Street Journal writer Kimberley Strassel's 2016 book The Intimidation Game: How the Left is Silencing Free Speech (Hachette Book Group).
The National Center for Public Policy Research, founded in 1982, is a non-partisan, free-market, independent conservative think-tank. Ninety-four percent of its support comes from individuals, less than four percent from foundations and less than two percent from corporations. It receives over 350,000 individual contributions a year from over 96,000 active recent contributors. Sign up for email updates here. Follow us on Twitter at @NationalCenter for general announcements. To be alerted to upcoming media appearances by National Center staff, follow our media appearances Twitter account at @NCPPRMedia.
-30-