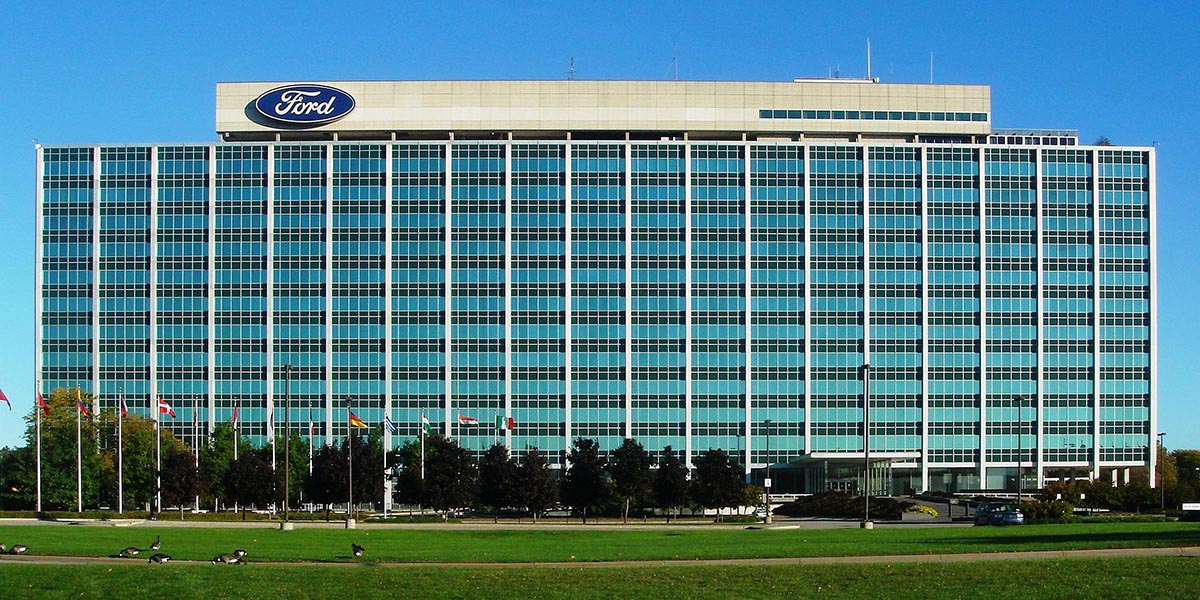 11 May 2017

Ford Executives Feign Ignorance on Company's Advertising Power

Free Enterprise Project Urges Large Advertisers to Use Influence to Promote Better-Quality, Objective Journalism

As Some Mainstream Media Outlets Continue to Battle with President Trump, Advertisers on Those Networks Risk Potential Consumer Backlash

Ford's Virtual Shareholder Meeting Format Bashed by Both Liberals and Conservatives

Washington, D.C. – At today's annual meeting of Ford shareholders held in an online format, in response to a question from a representative of the National Center for Public Policy Research's Free Enterprise Project (FEP), Ford executives pretended the company could not use its leverage as a major advertiser to influence the mediums in which it places those advertisements.

This past winter, FEP submitted multiple shareholder proposals with many large advertisers – including Ford – urging them to report on the potential reputation risk of advertising with ethically questionable news outlets. It also asked them to use their advertising power to try to promote more fair-minded and objective journalism. As Ford rebuffed FEP's request, today's question was meant to get an answer to those issues for the company's investors.

"I'm not buying what Ford executives are selling," said National Center General Counsel and FEP Director Justin Danhof, Esq., who submitted today's question to Ford. "Less than two months ago, Ford was one of many companies that pulled its ads from Google's platforms, including YouTube, out of concern over the content of certain videos. Clearly, Ford voted with its wallet in removing those ads, and that will likely lead to content changes at Google. Ford executives surely know that the company has great influence over those outlets on which it chooses to use to spend advertising dollars. When it comes to media platforms, Ford executives signaled today that they are shirking their responsibility and power."
Danhof's question noted:
In advance of the presidential election, communications made public by WikiLeaks showed collusion between high-level liberal political personnel and employees of national news outlets. Such news outlets caught engaging in this unethical behavior include CNBC, the New York Times, CNN, Politico, the Washington Post, NBC and ABC.
The Media Research Center reported that, in President Trump's first 100 days in office, 89 percent of the coverage of the President during the evening newscasts of ABC, CBS and NBC was negative. Ford has paid some of these news outlets for advertising.
With that background established, Danhof asked:
As hostility grows between the President and channels that report what he calls fake news, Ford exposes itself to reputational risk if it continues to affiliate with ethically-questionable news outlets. Many Ford owners and potential Ford customers, for example, support the President's efforts to grow American manufacturing. Their purchasing decisions may be influenced by which outlets Ford supports with its paid advertising.
But this relationship also provides Ford with an opportunity to help fix the problem. Will you vow to use your power as an advertiser to push for increased objectivity among the media outlets with which you spend shareholder resources? If that effort is rebuffed, will you withdraw advertisements from networks that many people, including the President, believe peddle fake news?
Danhof's complete question, as prepared for delivery, is available here.
In response, Ford's General Counsel Bradley Gayton gave what appeared to be a canned answer in which he claimed that Ford has no control over the content or nature of programming on the platforms where the company advertises. The audio of today's question and Ford's answer is available here.
"In addition to dodging its responsibility to improve the media landscape through its large advertising budget, Ford is also risking a consumer revolt. If Ford is not evaluating the way that President Trump and the media are interacting, it's derelict in its duty," said Danhof. "As those two factions seem to become further entrenched, with the press giving exceedingly negative coverage of the White House and President Trump calling some media outlets 'fake' news and enemies of the American people, Ford finds itself in danger of losing customers that equate the company's brand with press attacks on the President."

"It is insulting for Ford executives to claim people do not associate advertisers with the programs on which they advertise, and it deserved a follow-up we were not allowed due to the virtual format of the meeting," added National Center Vice President David W. Almasi. "It was not the complaint of individual left-wing activists that forced Bill O'Reilly off the Fox News Channel when he dominated the ratings — it was advertisers pulling their commercials. Ford cannot claim it has no power to influence the programs on which it chooses to advertise."
Also of note at today's Ford shareholder meeting were two shareholder proposals submitted by known liberal activists. In presenting their proposals, both proponents took the opportunity to call out Ford for moving its shareholder meeting online.
"This is one issue on which we agree wholeheartedly with the liberal activists who frequent shareholder meetings," added Danhof. "A shareholder meeting is the one time a year in which an individual investor has the opportunity to interact with corporate leadership. A virtual meeting robs shareholders of a good portion of this ability. Submitting questions via a website allows the company to pick and choose what it wants to address as well as denies any chance for follow-up or continued conversation after the formal meeting is over. The advent of the virtual meeting is a chilling trend in the relationship between investors and publicly-traded companies."
Launched in 2007, the National Center for Public Policy Research's Free Enterprise Project is the nation's preeminent free-market activist group — focusing on shareholder activism and the confluence of big government and big business. Since 2014, National Center representatives have participated in nearly 100 shareholder meetings to advance free-market ideals in the areas of health care, energy, taxes, subsidies, regulations, religious freedom, food policies, media bias, gun rights, workers' rights and many other important public policy issues. Today's Ford meeting marks FEP's fourteenth shareholder meeting attended so far in 2017.
FEP activism has yielded a tremendous return on investment:
FEP's highly-publicized questioning of support for the Clinton Foundation by Boeing and General Electric helped trigger an FBI investigation of the Clinton Foundation's activities that dominated the 2016 presidential campaign.

FEP inquiries prompted Facebook to address political bias against conservatives in social media.

Company executives acknowledged media bias at ABC News (Disney), the Washington Post and CNN (Time Warner) in response to FEP's challenges, which helped to bring about more objective reporting and more balanced political representation.

FEP's "Employee Conscience Protection Project" strengthened protections for the political beliefs and activities of over five million workers at 13 major U.S. corporations.
So far in 2017, FEP has been featured in media outlets including the New York Times, Washington Post, USA Today, Variety, Newsmax TV, Associated Press, Bloomberg, Breitbart, Denver Post, Drudge Report, Business Insider, Orlando Sentinel, National Public Radio, American Family Radio and SiriusXM. In 2016, FEP was also featured in the Washington Times, the Fox News Channel's "Cavuto," the Financial Times, Crain's Chicago Business, the Hollywood Reporter, the Los Angeles Times, Fortune, Newsmax, the Daily Caller, Lifezette, the Seattle Times, the San Francisco Chronicle and the Chicago Tribune among many others. The Free Enterprise Project was also featured in Wall Street Journal writer Kimberley Strassel's 2016 book The Intimidation Game: How the Left is Silencing Free Speech (Hachette Book Group).
The National Center for Public Policy Research, founded in 1982, is a non-partisan, free-market, independent conservative think-tank. Ninety-four percent of its support comes from individuals, less than four percent from foundations and less than two percent from corporations. It receives over 350,000 individual contributions a year from over 96,000 active recent contributors. Sign up for email updates here. Follow us on Twitter at @NationalCenter for general announcements. To be alerted to upcoming media appearances by National Center staff, follow our media appearances Twitter account at @NCPPRMedia.
-30-