15 Jun 2017

Time Warner Recommits to CNN Objectivity… Again

In the Face of Potential Boycotts, CEO Jeff Bewkes Concedes That Judgment over Media Bias Will Ultimately "Be Made by the Viewer"

Media Giant Continues to Support NYC's Public Theater, Despite Controversy over Trump Character's Grisly Murder

Burbank, CA / Washington, D.C. – As anti-Trump political extremism intensifies and turns violent, Time Warner CEO Jeff Bewkes defended CNN against charges of bias but said he would "recommit" to "an attempt to be independent." At today's annual Time Warner investor meeting, a representative of the National Center for Public Policy Research's Free Enterprise Project (FEP) warned that shareholders' return on investment could be harmed due to viewers and advertisers dumping the news channel in response to its overwhelmingly anti-Trump coverage. Bewkes also stood by the company's sponsorship of an organization performing a version of "Julius Caesar" in which a Trump-inspired Caesar is brutally murdered.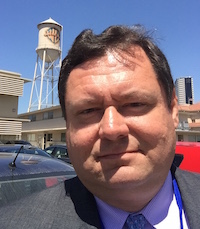 "A day after conservative lawmakers were targeted by a politically crazed gunman, my question that took Time Warner executives to task for CNN's contribution to the increasingly uncivil environment in Washington was very relevant," said National Center Vice President and FEP representative David W. Almasi, a Time Warner shareholder who attended the meeting. "It's good to hear Mr. Bewkes say he will recommit to making CNN more objective, but we will follow Reagan's 'trust but verify' approach since he has promised this same thing in the past. Mr. Bewkes seemed unconcerned with the startling numbers I presented to prove how biased CNN can be, and I warned him of the folly of providing confirmation bias to the political fringe."
During the meeting – held at Warner Brothers Studios in Burbank, California – Almasi raised concerns about strong anti-Trump bias in CNN coverage. He cited a Media Research Center analysis showing overwhelmingly negative coverage of the Trump Administration. Almasi also inquired about Time Warner's sponsorship of the Public Theater, whose controversial presentation of Shakespeare's "Julius Caesar" in New York City has the character of Caesar appearing to be Trump and being brutally murdered. Delta Airlines and Bank of America withdrew their support of the theater organization due to the content.
In his prepared question addressed to Bewkes, Almasi said:
Mr. Bewkes, we have urged you many times to make CNN more objective… But bias is apparently worse than ever. As shareholders, we are concerned about the reputational risk to our investment in Time Warner as CNN appears to be a key player in the war against the Trump presidency…

Are you concerned about advertisers leaving CNN? Will you continue to ignore appeals for objectivity at the risk to our investment in Time Warner? People are also wondering why you aren't following Delta and Bank of America in dropping support of the Public Theater — especially now that extremism seems to be breeding violence.
The full text of FEP's prepared question for the Time Warner shareholder meeting is available here.
Near the end of the almost 12-minute exchange between Almasi and Bewkes, Bewkes said:
[W]e will recommit — I'll do it to you now — for an attempt to be independent… I don't want you to be skeptical of our effort, and we're very sincere to try to achieve that. The decision on whether we've failed — you're right —will be made by the viewer.
The audio of the full exchange is available here.
Bewkes also said Time Warner would continue to fund the Public Theater, arguing that it was not providing direct funding to the controversial play.
"Money is fungible, and anything Time Warner gives to the Public Theater makes it easier for the group to put on its brutal anti-Trump version of Julius Caesar," Almasi added. "When Kathy Griffin posed with a mock bloody severed Trump head, that was also for art. Executives at Time Warner's CNN saw the growing controversy and quickly fired her. They understood the risk to the company's reputation there, but they are letting the Public Theater matter slide."
Earlier this year, FEP brought up the potential reputational risk of media bias and its effect on return on investment at the shareholder meetings of the Walt Disney Company and the Ford Motor Company. It raised the issue of CNN media bias with Time Warner at shareholder meetings in 2016, 2014 and 2013. Today's meeting was the nineteenth shareholder meeting FEP has participated in during the 2017 shareholder season.
Launched in 2007, the National Center for Public Policy Research's Free Enterprise Project is the nation's preeminent free-market activist group — focusing on shareholder activism and the confluence of big government and big business. Since 2014, its representatives have participated in around 100 shareholder meetings to advance free-market ideals in health care, energy, taxes, subsidies, regulations, religious freedom, food policies, media bias, gun rights, workers' rights and other important public policy issues. FEP's Employee Conscience Protection Project strengthened protections for the political beliefs and activities of over five million workers at 13 major U.S. corporations. FEP's questioning of Boeing's and General Electric's support for the Clinton Foundation helped trigger an FBI investigation into the Foundation's activities. Executives put on the spot by FEP at ABC News (Disney), the Washington Post and CNN (Time Warner) meetings acknowledged media bias.
FEP activity this year has been covered by media outlets such as the New York Times, Washington Post, USA Today, Variety, the Associated Press, Bloomberg, Drudge Report, Business Insider, National Public Radio and SiriusXM. FEP's work was also featured in Wall Street Journal writer Kimberley Strassel's 2016 book The Intimidation Game: How the Left is Silencing Free Speech (Hachette Book Group).
The National Center for Public Policy Research, founded in 1982, is a non-partisan, free-market, independent conservative think-tank. Ninety-four percent of its support comes from individuals, less than four percent from foundations and less than two percent from corporations. It receives over 350,000 individual contributions a year from over 60,000 active recent contributors. Sign up for email updates here. Follow us on Twitter at @NationalCenter for general announcements. To be alerted to upcoming media appearances by National Center staff, follow our media appearances Twitter account at @NCPPRMedia.
-30-