10 Aug 2017

Google's Ideological Intolerance Recounted by Danhof in Investor's Business Daily

While the rest of the world may have been taken aback by the firing of Google engineer James Damore, liberal intolerance at the tech giant wasn't a surprise to the National Center's Justin Danhof, Esq.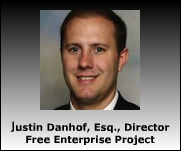 Danhof, director of the Free Enterprise Project, exposed this mindset in early June when he was at the annual shareholder meeting of Alphabet, Google's parent company.  He recounted his confrontation with the company's leadership in a new commentary published by Investor's Business Daily.  He noted that "Damore's firing was total twaddle, but it was predictable."
In his commentary, Danhof noted:
At the meeting, I asked Alphabet Chairman Eric Schmidt about the company's actual commitment to diversity and inclusion in light of the company's public policy positions, not to mention the views of top management, that all skew to the extreme political left.  I noted conservatives may not feel welcome in such an environment, let alone feel free to express their beliefs.  Schmidt and other company executives dismissed my entire question by claiming everyone at the company – and in the tech industry as a whole – was in agreement with them.
Danhof brought up the company's opposition to the Trump Administration's immigration policy, support for the Paris climate accord and a Texas decency law as examples of complex issues where Alphabet may have employees of varying opinions.  He asked: "When the company takes public policy positions, does it consider all of its employees?"  Schmidt arrogantly responded: "The company was founded on the principles of freedom of expression, diversity, inclusiveness and science-based thinking.  You'll also find that all of the other companies in our industry agree with us."
While leaders in the industry might all agree with each other, their employees certainly do not.  In particular, there's Damore – who was fired for thinking diversity should go beyond simply bean-counting protected classes in company employment statistics.  But Danhof found that Damore is not an anomaly at Alphabet:
After that confrontation, a strange thing happened.  I started receiving messages from Google employees thanking me for challenging Alphabet's leadership.  Without realizing it, I was apparently speaking for a closeted segment of Google employees with conservative beliefs.

One email read, "I'm working with a few other Googlers to fix the company's political discrimination problem.  Really appreciate you shining a light on the matter."

Another said she was working closely with a group of conservatives at Google, and noted, "(t)hey're all very appreciative that you were standing up for their interests at the shareholder's (sic) meeting.  The shareholder resolution your organization filed also made a lot of people happy."

I won't divulge the names of these conservative Google employees lest they suffer the same fate as Damore.  But it's clear that, despite Mr. Schmidt's claim, not everyone at Google subscribes to his far-left worldview.
In a press release issued just after the Alphabet shareholder meeting, Danhof said the meeting left him with the feeling that the company was "of, by and for liberals."  After what he exposed, and the posturing of the company after Damore's firing, it's hard to believe otherwise.
Today Danhof appeared on Dr. Drew's KABC radio show to discuss this issue further. You can hear his entire appearance below.