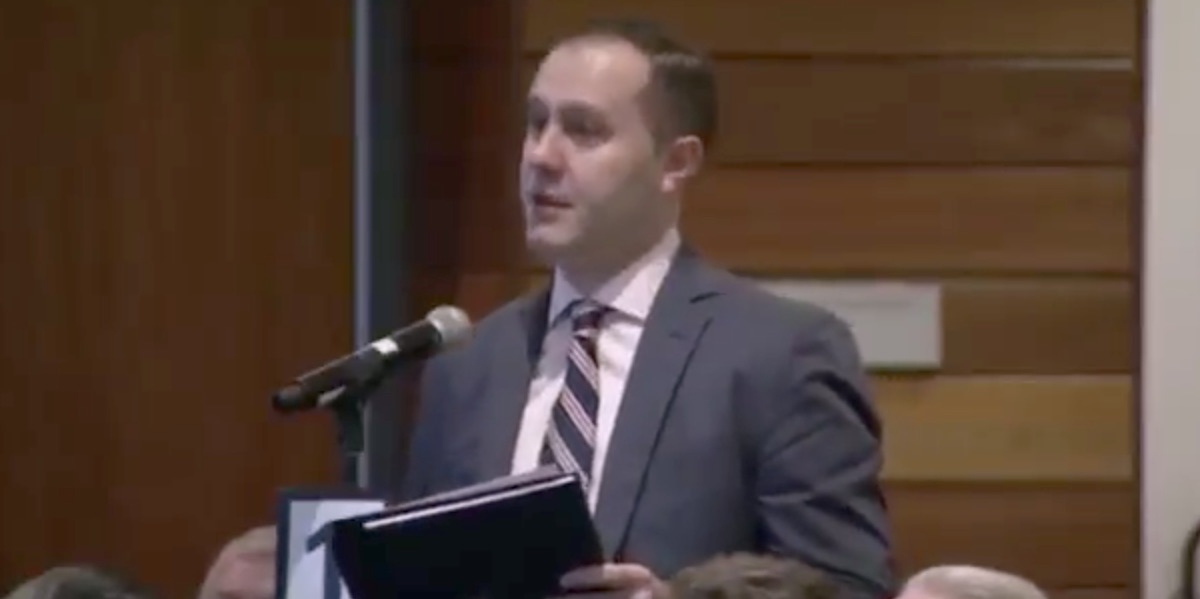 17 Jan 2018

Walgreens Commits to Review Charitable Giving Following Free-Market Activist's Questions

Walgreens' Support for Pro-Sanctuary City Groups Under Fire at Annual Shareholder Meeting

As Trump White House Seeks Legal Means to Punish Sanctuary Cities, Free Enterprise Project Goes After Corporate Sponsor of Far-Left Immigration Groups Pushing Illegal Policy

Scottsdale, AZ / Washington, DC – Walgreens executives today vowed to review the company's charitable giving policies after being questioned by a representative of the National Center for Public Policy Research's Free Enterprise Project (FEP) at the annual meeting of Walgreens shareholders. FEP's director confronted the retail drug giant's leadership about the company's donations to racialized groups that promote extreme policies in violation of federal law, such as sanctuary cities protecting illegal immigrants.

"I am pleased Walgreens committed to reviewing its charitable giving. It's a shame, however, that executives wanted no part in answering the substance of our question during this public meeting," said National Center General Counsel and FEP Director Justin Danhof, Esq., who attended today's meeting and questioned Walgreens leadership. "Whether its executives acknowledge it or not, Walgreens is funding radical groups lobbying for illegal sanctuary city policies. They say their charitable contributions are not intended to weaken our immigration policies, but they were quick to cut me off when I reminded them that their money is fungible. Once Walgreens donates to a charity, it has no legal right to direct the charity's actions."

The websites of UnidosUS (formerly the National Council of La Raza) and the League of Latin American Citizens (LULAC) – both supporters of sanctuary cities and amnesty for illegal immigrants – indicate receiving charitable support from Walgreens.

A 2017 Harvard-Harris poll found 80 percent of American voters opposed sanctuary city policies. According to Hans A. von Spakovsky, a senior legal fellow with the Heritage Foundation, these policies are unlawful: "8 U.S.C. §1373 prohibits states and local jurisdictions from preventing their law enforcement officials from exchanging information with federal officials on the citizenship status of individuals they have arrested or detained."

At the meeting, Danhof asked,
Does Walgreens' support of these groups indicate that Walgreens believes states and localities can flout federal law and not turn over the names of arrested illegal immigrants to federal authorities – even if they've committed violent felonies?
Because 80 percent of Americans surely include current and potential customers, do you see any potential downside for Walgreens related to the company's support of groups lobbying for sanctuary cities and amnesty?
If these groups do not represent Walgreens' position on immigration, then why would you fund them?
What exactly is the company's stance on immigration reform?
A full copy of Danhof's question, as prepared for delivery, is available here.
In response to Danhof's questioning, Walgreens Executive Chairman James Skinner said the company donates to groups such as UnidosUS and LULAC "relative to the health care of their individuals and health and well-being." However, in 2012, Walgreens dropped its membership in the American Legislative Exchange Council (ALEC) despite it only working with ALEC on its Health and Human Services Task Force. Liberal agitators took credit for cutting Walgreens' ties to ALEC over the group's work on voter integrity safeguards.
"I reminded Mr. Skinner that money is fungible. Once Walgreens cut checks to UnidosUS and LULAC, the company had no authority to dictate how those groups spent the money. While Walgreens may hope the money was put toward health initiatives, the groups could have used those funds to lobby for sanctuary city policies," noted Danhof. "As such, Walgreens' money could be supporting sanctuary city policies. That's a fact."
In response to Danhof's question, Walgreens Vice President for Communications and Community Affairs Chuck Greener said: "Having listened to your question and the points you've made… we're going to go through all of our donations and certainly take those views into consideration."
A video of the exchange between Danhof and the company's executives is available here.
The timing of today's meeting coincides with moves by President Donald Trump to crack down on sanctuary cities. On January 16, U.S. Secretary of Homeland Security Kirstjen Nielsen said prosecutors are working to determine if charges can be brought when sanctuary cities refuse to cooperate with federal law enforcement officials on deportation matters.
"As the Trump White House and Department of Homeland Security review legal options regarding sanctuary cities, we suggest appropriate federal and congressional oversight bodies also look into corporations and groups that may be enabling and funding criminal behavior," said Danhof.
"In drawing attention to Walgreens' affiliation with the unlawful and race-conscious agendas of UnidosUS and LULAC, we want to help Walgreens protect its reputation with consumers and stay on the right side of the law," said National Center Vice President David W. Almasi. "In the days ahead, we hope Walgreens management will give our concerns the serious consideration they deserve."
The 2018 annual meeting of Walgreens Boots Alliance shareholders was held at the Andaz Resort and Spa in Scottsdale, Arizona. It was FEP's first attendance at a corporate shareholder meeting in 2018.
Launched in 2007, the National Center's Free Enterprise Project focuses on shareholder activism and the confluence of big government and big business. Over the past four years alone, FEP representatives have participated in over 100 shareholder meetings – advancing free-market ideals about health care, energy, taxes, subsidies, regulations, religious freedom, food policies, media bias, gun rights, workers' rights and other important public policy issues. As the leading voice for conservative-minded investors, FEP annually files more than 90 percent of all right-of-center shareholder resolutions. Dozens of liberal organizations, however, annually file more than 95 percent of all policy-oriented shareholder resolutions and continue to exert undue influence over corporate America.
FEP activity has been covered by media outlets including the New York Times, Washington Post, USA Today, Variety, the Associated Press, Bloomberg, Drudge Report, Business Insider, National Public Radio and SiriusXM. FEP's work was prominently featured in Wall Street Journal writer Kimberley Strassel's 2016 book The Intimidation Game: How the Left is Silencing Free Speech (Hachette Book Group).
The National Center for Public Policy Research, founded in 1982, is a non-partisan, free-market, independent conservative think-tank. Ninety-four percent of its support comes from individuals, less than four percent from foundations and less than two percent from corporations. It receives over 350,000 individual contributions a year from over 60,000 active recent contributors. Contributions are tax-deductible and may be earmarked for the Free Enterprise Project.
Sign up for email updates here. Follow us on Twitter at @NationalCenter for general announcements. To be alerted to upcoming media appearances by National Center staff, follow our media appearances Twitter account at @NCPPRMedia.
-30-