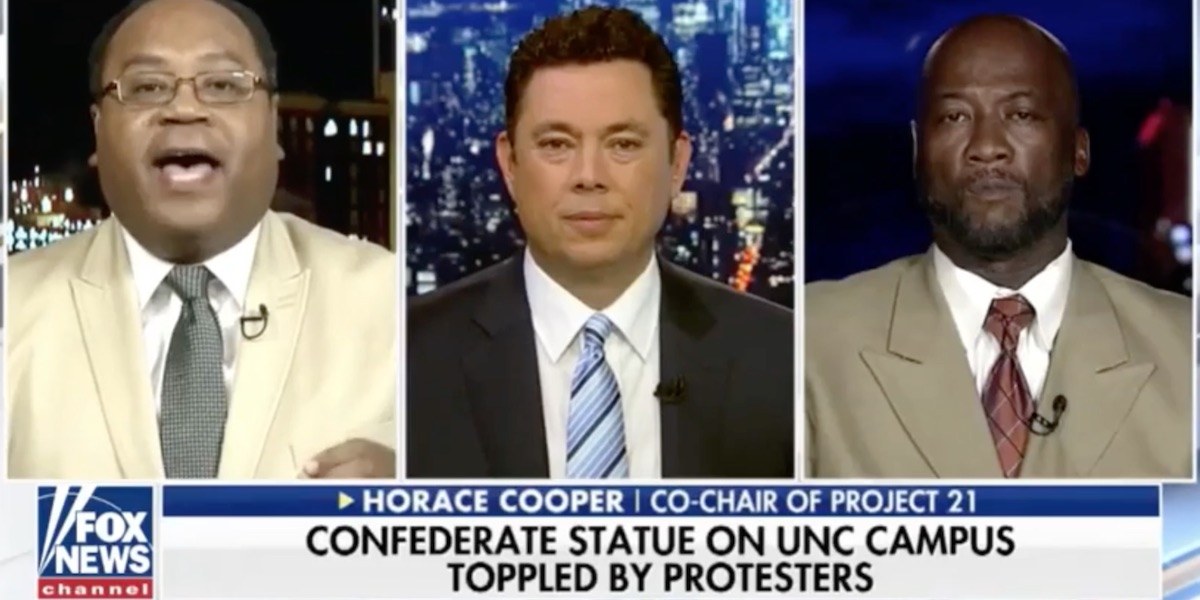 28 Aug 2018

Making the Case Against Statue Vandals

On the day before classes began at the University of North Carolina at Chapel Hill, a mob of reportedly several hundred people tore down the statue of a Confederate soldier that was a part of the campus since 1913. Seven people have been arrested in connection with the vandalism.

In accordance with state law, the statue is slated to be reinstalled within 90 days.

Project 21 Co-Chairman Horace Cooper, in a debate on the Fox News Channel program "The Ingraham Angle," said:
If you wish to remove those statues, there should be a political conversation and a process. The mob violence was not appropriate when it terrorized black Americans in the 19thand 20thcenturies, and it's not appropriate not in the 21stcentury.
Civil defense attorney Eric Johnson suggested the act could be both "free speech" and "mob rule, noting that people are "upset with the images a lot of these statues portray" – although ripping this one down "may not have been the best" course of action. Caught in an untenable position, Johnson then tried to compare what happened to mayhem that sometimes takes place on college campuses after sports victories.
Horace called this argument out as two completely different situations. He said:
To equate what happens when college students drink too much, become overly exuberant and celebrate and result in damages with intentional destruction of private property – those are not one in the same. Those are not to be treated the same way

Yes, some danger can result from both. But we need to be very, very, very vigilant about making sure we're not telling young people that, when you have a personal or political difference, that the way to resolve that is with the use of force. You should never do that on campus.
Pressed on the issue by guest host Jason Chaffetz, Johnson said he could agree with Horace "to a point," but suggested there were "underlying reasons" that needed to be examined. Horace interjected "absolutely not!" Chaffetz pressed Johnson about whether or not he thought what happened was justified, and Johnson stammered: "I never, I never, I never said that it was justified." Horace once again engaged, adding: "You absolutely are!… You're giving space."
Asked point-blank about prosecuting the UNC protestors, Johnson made a vague assertion that there should be "some punishment" upon which he did not elaborate. When the same question was posed to Horace, he said: "They should be held accountable."
Giving it a historical perspective, Horace added that politicians who remained reticent about evolving civil rights law and tolerant behaviors, Horace noted, erected the statues and "engaged in behavior during my parents' and grandparents' and great-grandparents' lifetimes terrorizing them."
But, putting it into the context of what happened at this college, Horace further pointed out:
What we have learned from this event is that, just like they did at the turn of the [20th] century, justified this behavior – called it underlying conflicts and concerns. We have a similar mindset at work today.
While Chaffetz commented that Horace's assertions were "well said," there was an outpouring of supportive tweets about his performance: