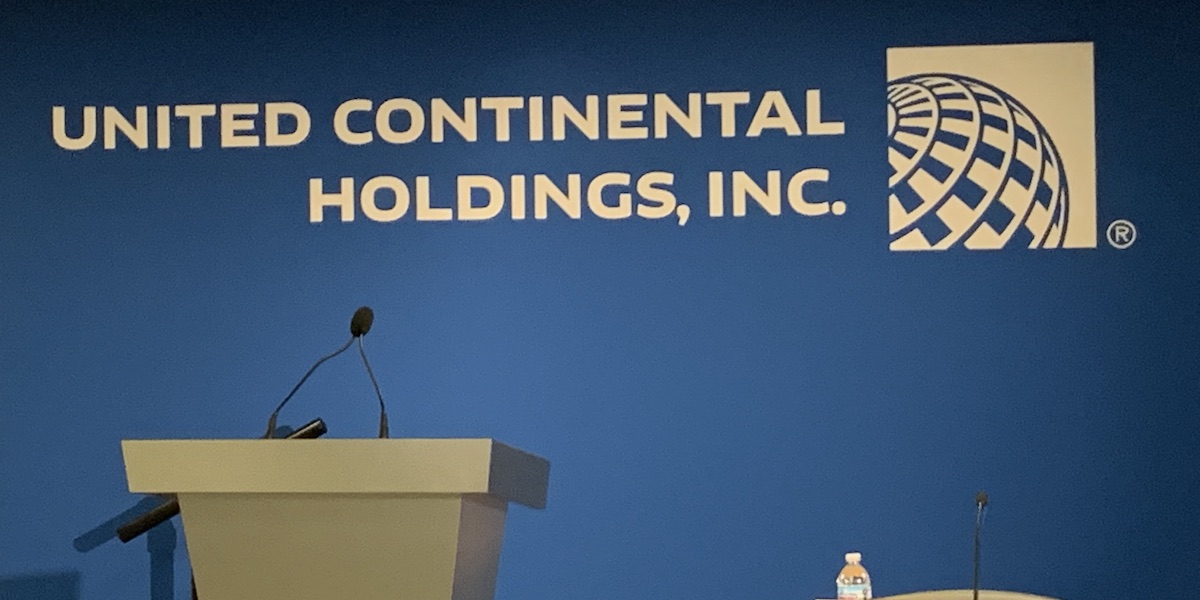 22 May 2019

United Airlines CEO Reaffirms Dumping NRA Despite Employee Disapproval of Decision
Munoz Refuses to Say If Opioid Makers, Others May Face Similar Treatment
Chicago, IL/Washington, D.C. – The head of United Airlines was called out by a shareholder today for making a "personal" decision to end United's relationship with the National Rifle Association (NRA) – a decision that angered employees and was questioned by financial experts. At the company's annual investor meeting, United Continental Holdings CEO Oscar Munoz said "we stand by" the decision he made last year to sever financial ties with the Second Amendment advocacy group.
"To claim to speak for all of his employees on the important and sometimes divisive issue of gunowner rights was poor judgment on Munoz's part, and he rejected the opportunity we gave him today to make things right with his employees and with current and potential customers," said National Center for Public Policy Research Vice President David W. Almasi, who attended the United shareholder meeting as a representative of the National Center's Free Enterprise Project (FEP). "His anti-gun stance has surely hurt morale, and the animus he created with supporters of the Second Amendment will affect the company's profits and shareholders' investment. That's why financial experts were critical of Munoz on this from the beginning."
At last year's shareholder meeting, FEP Director Justin Danhof, Esq., confronted Munoz about United abruptly ending a business relationship with the NRA after the school shooting in Parkland, Florida. Munoz called United's decision "personal with regard to my family at United." But his employees' supposed approval of this decision was intensely disputed in a subsequent media report.
During today's United shareholder meeting, held at the corporate headquarters in Chicago, Almasi said:
Mr. Munoz, last year you told one of my colleagues that the decision you made to cancel a United Airlines discount for the National Rifle Association "wasn't political." Instead, you claimed it was "personal with regard to my family at United."

Well, Inc.com reached out to your "family" at United and you may be surprised by what it found. By a 4:1 margin, United employees disagreed with both your answer to my colleague and the company's decision to drop the NRA discount in the first place…

Following last year's annual meeting, a nearly unanimous CNBC panel decided you had made a poor business decision. One commentator said, "[h]e doesn't own the company. It's not Munoz Air." Another suggested that a "decision like this is big enough that he has to go in front of the board and pitch it to them and sell it. And, if he sells it right, they are all gonna be on board with him."
Almasi then closed with some advice and a question for Munoz:
First, when you take a political action on behalf of the company, maybe you should actually check with them first. And can you explain why you didn't run this decision by the board of directors before you made it – if you did not?
The full text of Almasi's statement and question, as prepared for delivery, is available here.
In response to Almasi's comments, Munoz said he was "not aware" of the details of the Inc.com survey, and claimed his calling the decision "personal" was not taken in the "full context" in which he meant it – that a pilot's daughter had been killed in the Parkland shooting. When Almasi followed up on that angle, asking if putting it in this context might also justify an end to United's business relationship with Purdue Pharma because of the company's marketing of opioids or with HBO over criticism of the finale of "Game of Thrones," Munoz refused to respond.
"When applying his approach in the context he wanted it considered, there are plenty of politically motivated decisions Munoz could make for United in the future. That's troubling," said Almasi. "United's board needs to be engaged to make sure more 'family' decisions don't hamper the airline's bottom line."
Today's United Continental shareholder meeting is the 21st meeting in which FEP has participated in 2019.
Launched in 2007, the National Center's Free Enterprise Project focuses on shareholder activism and the confluence of big government and big business. Over the past four years alone, FEP representatives have participated in over 100 shareholder meetings – advancing free-market ideals about health care, energy, taxes, subsidies, regulations, religious freedom, food policies, media bias, gun rights, workers' rights and other important public policy issues. As the leading voice for conservative-minded investors, it annually files more than 90 percent of all right-of-center shareholder resolutions. Dozens of liberal organizations, however, annually file more than 95 percent of all policy-oriented shareholder resolutions and continue to exert undue influence over corporate America.
FEP activity has been covered by media outlets including the New York Times, Washington Post, USA Today, Variety, the Associated Press, Bloomberg, Drudge Report, Business Insider, National Public Radio and SiriusXM. FEP's work was prominently featured in Wall Street Journal writer Kimberley Strassel's 2016 book The Intimidation Game: How the Left is Silencing Free Speech (Hachette Book Group).
The National Center for Public Policy Research, founded in 1982, is a non-partisan, free-market, independent conservative think-tank. Ninety-four percent of its support comes from individuals, less than four percent from foundations and less than two percent from corporations. It receives over 350,000 individual contributions a year from over 60,000 active recent contributors. Sign up for email updates here. Follow us on Twitter at @FreeEntProject and @NationalCenter for general announcements. To be alerted to upcoming media appearances by National Center staff, follow our media appearances Twitter account at @NCPPRMedia.
– 30 –