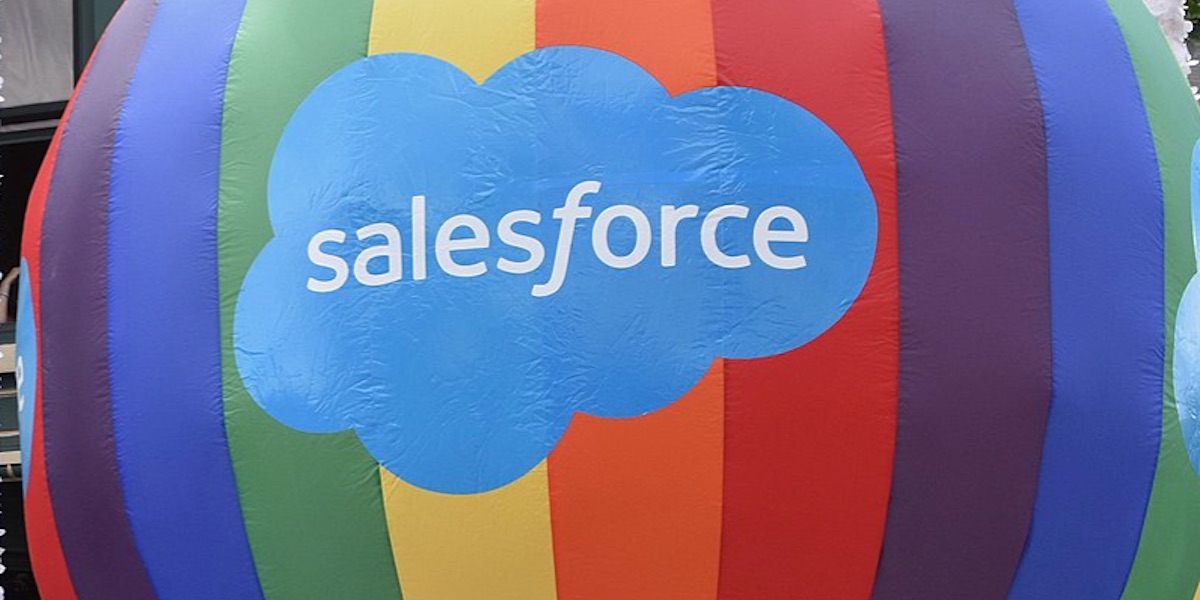 07 Jun 2019

Salesforce Rejects Diversity – Far-Left Board Votes to Remain Liberal Enclave
Free-Market Leader Condemns Software Giant's Posturing Against Religious Liberty and the Second Amendment

San Francisco, CA/Washington, D.C. – Software giant Salesforce has rejected a shareholder resolution designed to encourage a diverse balance of thought on the tech giant's left-leaning board of directors.
The vote came in response to a shareholder proposal submitted by Free Enterprise Project (FEP) Director Justin Danhof, Esq., at yesterday's annual meeting of Salesforce investors held in San Francisco, California. Danhof's proposal noted that "[d]iversity isn't what someone looks like. It's the sum of what that person thinks, feels and believes. When the company takes overtly political positions on legal and policy issues, it would benefit from having voices from both sides of the aisle in the room."
The full text of the proposal is available on page 72 of Salesforce's proxy, available here.
"Salesforce has become one of the nation's most influential companies over the past decade. Unfortunately, the tech giant is using its outsized power as a weapon of left-wing social engineering," said Danhof.
At the meeting, Danhof noted:
Salesforce spends significant capital advancing liberal positions. For example:

* The company threatened to divest from the state of Georgia over that state's consideration of a religious freedom restoration law, falsely suggesting that the measure was designed to discriminate against the LGBT community.

* The company also signed the Human Rights Campaign's (HRC) highly disingenuous amicus brief in the Masterpiece Cakeshop, Ltd. v. Colorado Civil Rights Commission U.S. Supreme Court case. The company's position would have allowed states to compel speech of private businesses and citizens all while further eroding religious freedom.

* And the Washington Post recently reported that Salesforce has instituted a new policy taking aim at the 2nd Amendment. Specifically, the company is barring its clients that sell certain guns, clients such as Camping World, "from using its technology to market products, manage customer service operations and fulfill orders." This could damage the company, as existing clients may leave and new clients may consider other software options.
Danhof then stated:
Whether you're willing to admit your bias is beyond the point. In business, perception is often reality. And our proposal provides a tangible way for the company to combat its bias.

We believe that boards that incorporate diverse perspectives can think more critically and oversee corporate managers more effectively. Appointing a few conservatives may help the company avoid groupthink. That's a win for investors and a win for true diversity.
The full text of Danhof's statement, as prepared for delivery, is available here. Audio of Danhof's statement is available here.
"I was encouraged that one of the board members approached me to thank me for my statement and suggest he was in agreement with us," noted Danhof. "However, when it comes to Salesforce's left-leaning public policy positions, it seems his voice isn't being heard inside the boardroom.
"You don't need laws to upend the culture," continued Danhof. "Salesforce is working to upend commerce and culture in ways that shift society further to the left. Religious Americans, gun rights supporters and conservatives need to do a much better job of reaching out to these left-wing corporate actors in the same way that liberal activists do. Until we do that, the corporate march to the left will continue largely unabated."
Yesterday was the seventh time FEP has presented a board diversity resolution at a corporate shareholder meeting this year. FEP has also called upon Apple, Starbucks, Discovery, Twitter, Amazon and Facebook to increase ideological diversity on their left-leaning boards.
Yesterday's Salesforce meeting marks the 25th time FEP has participated in a shareholder meeting in 2019.
Launched in 2007, the National Center's Free Enterprise Project focuses on shareholder activism and the confluence of big government and big business. Over the past four years alone, FEP representatives have participated in over 100 shareholder meetings – advancing free-market ideals about health care, energy, taxes, subsidies, regulations, religious freedom, food policies, media bias, gun rights, workers' rights and other important public policy issues. As the leading voice for conservative-minded investors, FEP annually files more than 90 percent of all right-of-center shareholder resolutions. Dozens of liberal organizations, however, annually file more than 95 percent of all policy-oriented shareholder resolutions and continue to exert undue influence over corporate America.
FEP activity has been covered by media outlets including the New York Times, Washington Post, USA Today, Variety, the Associated Press, Bloomberg, Drudge Report, Business Insider, National Public Radio and SiriusXM. FEP's work was prominently featured in Wall Street Journal writer Kimberley Strassel's 2016 book The Intimidation Game: How the Left is Silencing Free Speech (Hachette Book Group).
Earlier this year, Investor's Business Daily published an op-ed by Danhof regarding the capitulation of Amazon, Facebook and Alphabet to liberal diversity pushers. It is available here.
The National Center for Public Policy Research, founded in 1982, is a non-partisan, free-market, independent conservative think-tank. Ninety-four percent of its support comes from individuals, less than four percent from foundations and less than two percent from corporations. It receives over 350,000 individual contributions a year from over 60,000 active recent contributors. Contributions are tax-deductible and may be earmarked for the Free Enterprise Project. Sign up for email updates here.
Follow us on Twitter at @NationalCenter for general announcements. To be alerted to upcoming media appearances by National Center staff, follow our media appearances Twitter account at @NCPPRMedia.
-30-