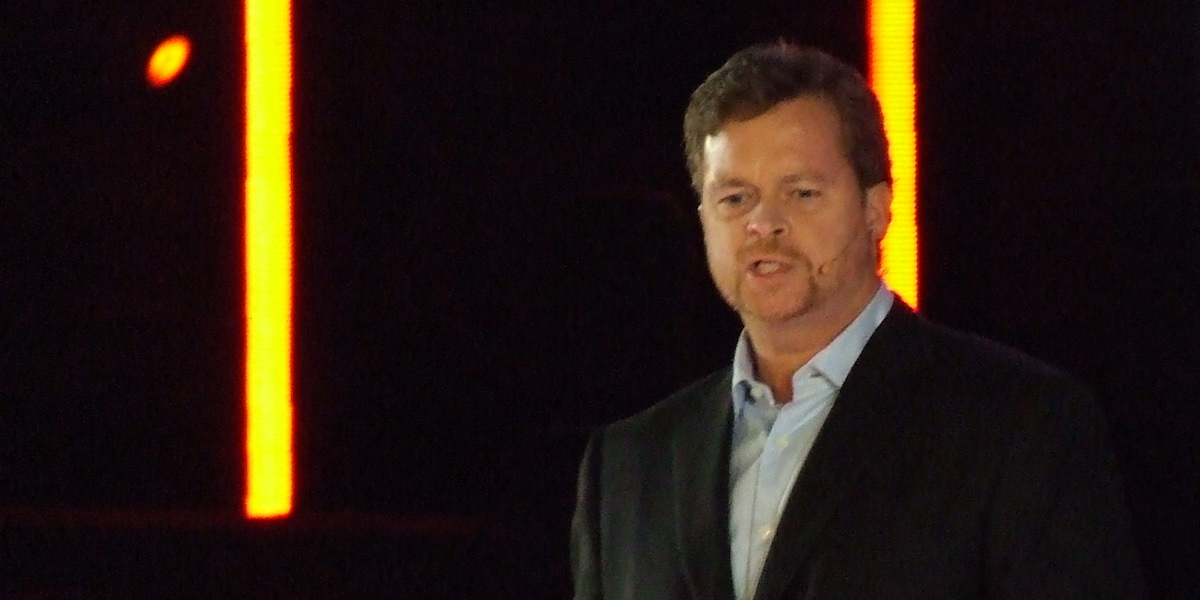 19 Sep 2019

Nike CEO Should Resign and Appoint Colin Kaepernick as Obvious Replacement
By Halting Sales of Betsy Ross Tribute Sneakers, Nike Shows Kaepernick is Company's True Leader Free Enterprise Project Offers Gift of Rush Limbaugh's "Stand Up for Betsy Ross" T-Shirt to CEO Mark Parker, Who Refuses It
Beaverton, OR/Washington, D.C. – After Nike CEO Mark Parker conducted a sham question-and-answer session in which he refused to truthfully answer shareholder questions about his decision to cancel sales of a Betsy Ross tribute sneaker, the Free Enterprise Project is calling for Parker's resignation.
Free Enterprise Project (FEP) Director Justin Danhof, Esq., attended today's shareholder meeting intending to ask Parker a question about the Betsy Ross controversy. Since so many of Nike's recent decisions have harmed the company's reputation with conservative and patriotic Americans, Danhof planned to offer the company a way to repair this fractured relationship as well as benefit Nike's shareholders. However, Nike refused to allow Danhof to speak.
Danhof had planned to state:
Nike has made a string of business decisions that have offended conservatives, members of the military, police officers, and patriotic Americans. From signing cop-hating Colin Kaepernick, to an ad suggesting that this multi-millionaire is making major "sacrifices," to pulling a Betsy Ross tribute shoe because Kaepernick lied and told you it was racist, there seems to be nothing the company won't do to offend those who love America and who value the ideals on which this nation stands…

If the Betsy Ross flag is so controversial, why did Barack Obama select it for his Presidential Inauguration? Your compliance with Kaepernick's historical revisionism has further muddled your moral authority. All that said, and as offended as so many of us are by Nike's actions, I am here to offer the company an olive branch and a business opportunity.
After that, he planned to offer the company a way out of this self-imposed reputational mess:
In the wake of the Betsy Ross scandal, Rush Limbaugh issued a "Stand Up for Betsy Ross" t-shirt that sold remarkably well. I am wearing it today and I have one for Mr. Parker if he will accept my gift.

The sales from Rush's shirt prove that there is a strong market for such patriotic items. If Nike were to re-issue the Betsy Ross shoe, this would go a long way toward repairing your reputation – and the company would likely sell a lot of shoes as well. Will you consider placing the Betsy Ross shoes back on the shelves?
Danhof's full question at today's meeting, as prepared for delivery, is available here.
However, Danhof never got to ask that question. Instead, staffers forced him to turn in his question far in advance of the meeting. This allowed Parker to fully rewrite Danhof's question. To wit, Parker merely asked himself:
Why did you pull the Betsy Ross shoe from sale over the Fourth of July?
And answered:
Y'know we… I'll just give a simple answer… We saw many people raising concerns and we made the decision to halt the distribution, and we didn't want to unintentionally offend or detract from the Fourth of July holiday. And that's simply the reason that we made that decision.
Audio of Parker's watered-down question and response is available here.
"Today Parker showed as much disdain for Nike investors as the company regularly shows toward conservatives," said Danhof. "It's clear to me that Kaepernick is running the show to align Nike with a very niche cop-hating, anti-American clientele. As Parker seems more than willing to bow to Kaepernick's every anti-American sentiment, it's time for Parker to step aside and officially give Kaepernick the reins.
"When I asked numerous investor relations staffers who it was who had rewritten my question for Parker, they first insisted that no one rewrote a word of it. Like robots, they kept repeating that they had no idea what I was talking about – even though I was addressing the very staffer who took the question from me. Eventually, they admitted that Parker rewrote the question himself," added Danhof. "Parker clearly doesn't have the courage of his convictions. A CEO who can't handle a few tough investor questions one time a year at the annual meeting doesn't deserve the job."
Today's Nike meeting marks the 30th time FEP has participated in a shareholder meeting in 2019.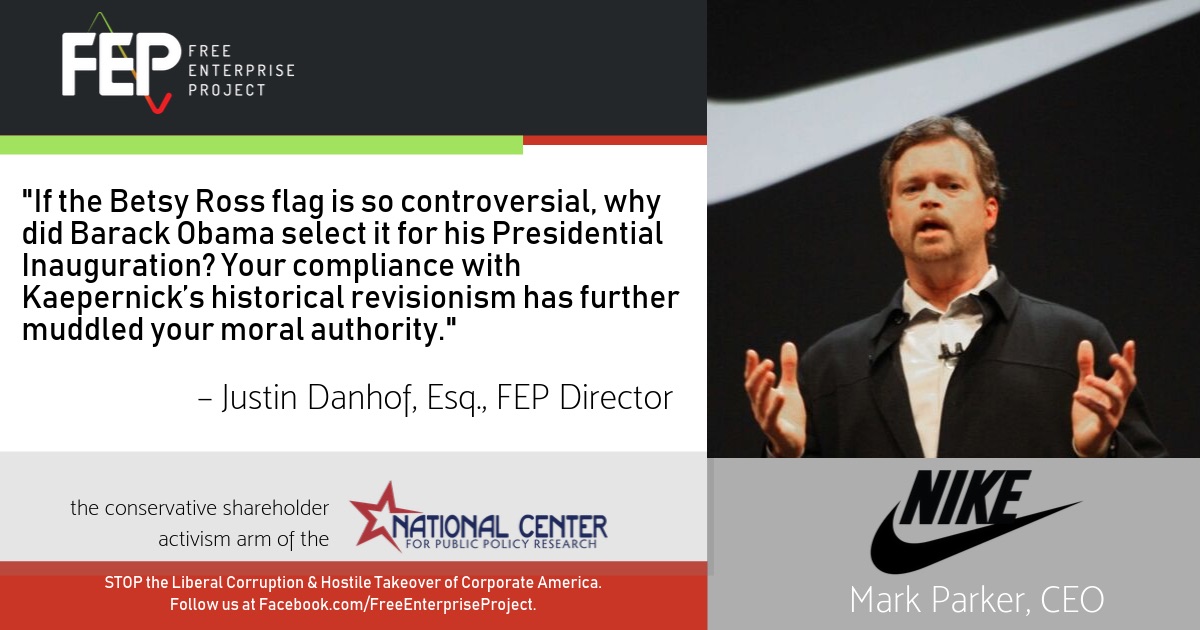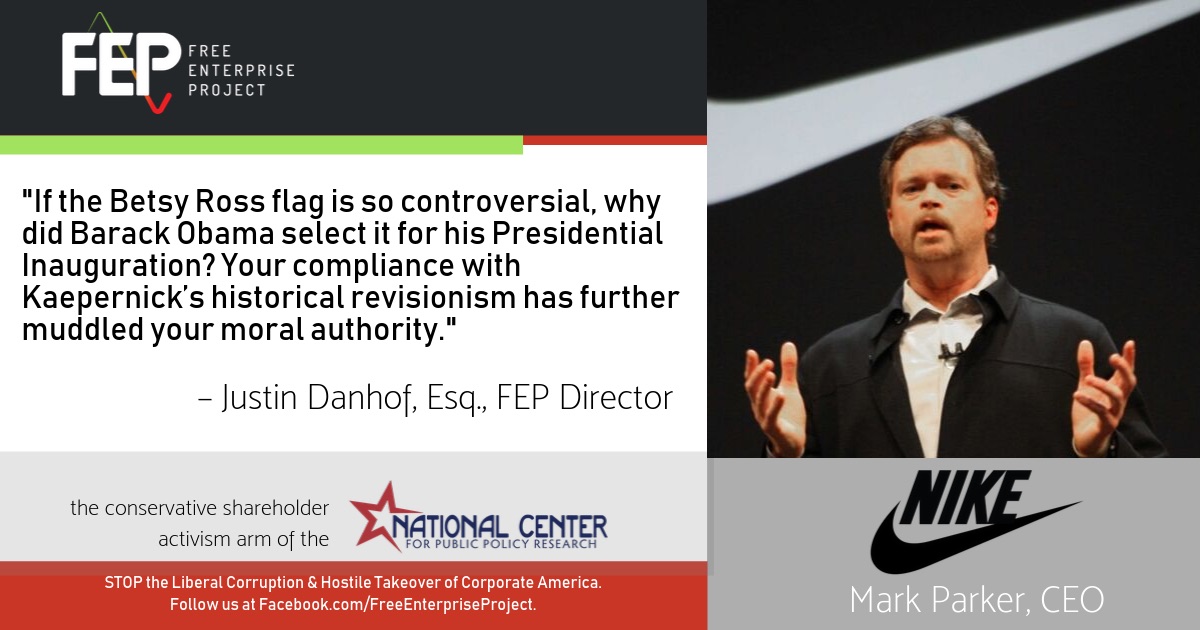 Launched in 2007, the National Center's Free Enterprise Project focuses on shareholder activism and the confluence of big government and big business. Over the past four years alone, FEP representatives have participated in over 100 shareholder meetings – advancing free-market ideals about health care, energy, taxes, subsidies, regulations, religious freedom, food policies, media bias, gun rights, workers' rights and other important public policy issues. As the leading voice for conservative-minded investors, it annually files more than 90 percent of all right-of-center shareholder resolutions. Dozens of liberal organizations, however, annually file more than 95 percent of all policy-oriented shareholder resolutions and continue to exert undue influence over corporate America.
FEP activity has been covered by media outlets including the New York Times, Washington Post, USA Today, Variety, the Associated Press, Bloomberg, Drudge Report, Business Insider, National Public Radio and SiriusXM. FEP's work was prominently featured in Wall Street Journal writer Kimberley Strassel's 2016 book The Intimidation Game: How the Left is Silencing Free Speech (Hachette Book Group).
Earlier this year, Investor's Business Daily published an op-ed by Danhof regarding the capitulation of Amazon, Facebook and Alphabet to liberal diversity pushers. It is available here.
The National Center for Public Policy Research, founded in 1982, is a non-partisan, free-market, independent conservative think-tank. Ninety-four percent of its support comes from individuals, less than four percent from foundations and less than two percent from corporations. It receives over 350,000 individual contributions a year from over 60,000 active recent contributors. Contributions are tax-deductible and may be earmarked for the Free Enterprise Project. Sign up for email updates here.
Follow us on Twitter at @NationalCenter for general announcements. To be alerted to upcoming media appearances by National Center staff, follow our media appearances Twitter account at @NCPPRMedia.
-30-