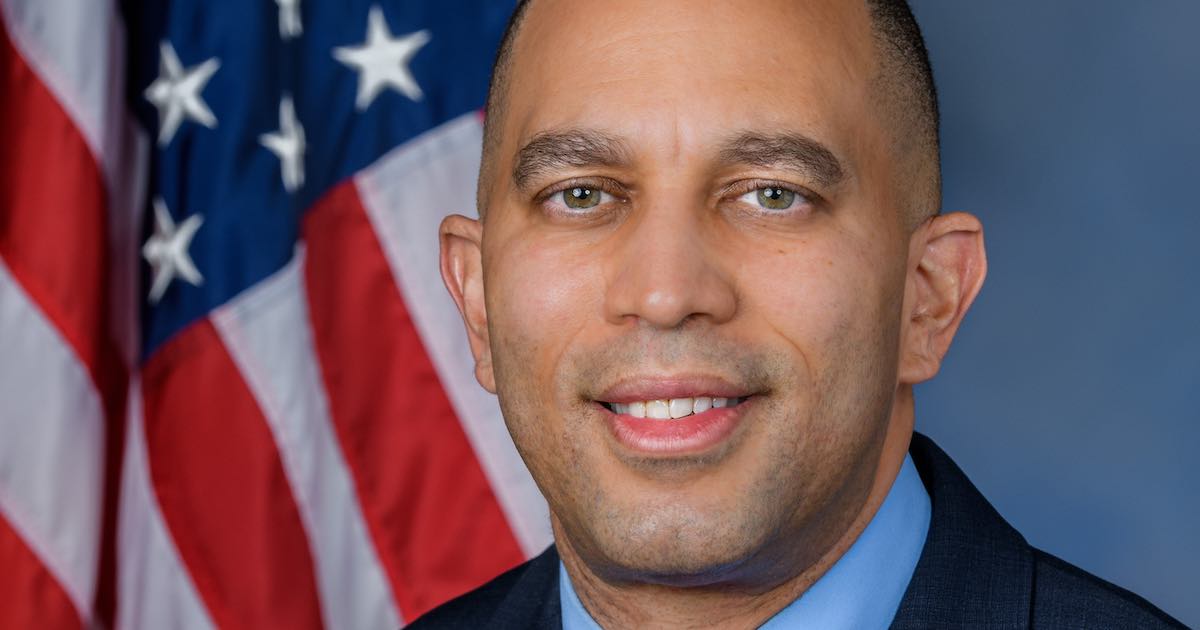 13 Apr 2023

House Minority Leader Hakeem Jeffries Compared Black Conservatives to "House Negroes"
Jeffries Defended Incendiary Remarks by Radical Black Studies Professor Uncle
In a piece published by CNN's KFile, editor Andrew Kaczynski and researcher Em Steck revealed comments made by House Minority Leader Hakeem Jeffries while a student at Binghamton University in upstate New York.
In an editorial published in a local paper on February 21, 1992, Jeffries defended his uncle — black studies professor Leonard Jeffries — whose well-known incendiary antisemitic remarks, Holocaust denial, racist "melanin theory" and embrace of Nation of Islam leader Louis Farrakhan caused a widespread backlash.
Calling out "token blacks," and identifying white supremacy around every corner, Jeffries wrote:
The House Negro of the slavery era and the Black conservative of today are both opportunists interested in securing some measure of happiness for themselves within the existing social order. In both cases, the social order has Blacks occupying the lowest societal echelon.
Hakeem Jeffries, now the top liberal lawmaker in Congress, has previously denied these comments.
Members of the Project 21 black leadership network – who represent the black conservatives he has defamed – say that now that Jeffries holds significant power in Washington, he must confront these remarks head-on and explain if his thinking has changed.
"Writing as a college student, Mr. Jeffries reveals a very ignorant and bigoted view regarding the diversity of views that exists within Black America," says Project 21 Chairman Horace Cooper. "Frederick Douglass and Booker T. Washington were conservatives, and neither were opportunists. But their ideas have long been dominant within Black America. Indeed, faith, freedom and personal responsibility are black values as well as American values. It would be sad indeed if Mr. Jeffries, the highest-ranking black in the House minority, still doesn't know this."
"Hakeem Jeffries' college writings have exposed yet again the dangerous and troubling views held by some on the left," adds Project 21 member Melanie Collette. "It's a shame that those who've been indoctrinated into an antisemitic, racist worldview are sitting elected officials in Congress. The mainstream media continues in its failure to hold these people accountable; instead, it seems intent on owning the minds of minorities in order to perpetuate its bigoted ideology, policy and power. This silence must end if we want our politics free from discrimination and prejudice; only then can true unity be attained."
"I feel sorry for Hakeem Jeffries and so many other black Americans who think that the Bill of Rights and the Constitution don't apply to them simply because they were written by the founding fathers whose skin color was different than theirs," comments Project 21 Director of Membership Development Donna Jackson. "There has always been freedom in words and ideals, irrespective of who authored them. It is narrow thinking that believes that we cannot enjoy things we didn't create. That thinking would bar us from most of the modern conveniences we enjoy today. Attacking black conservatives speaks more to the powerlessness Minority Leader Jeffries has created in his own mind rather than the reality that we all live in today."
"Perhaps it's time that House Minority Leader Jeffries acknowledges, after decades of black leaders pursuing a progressive socialist agenda that has all but tanked black Americans, that black America has nothing to lose by turning to the conservative policies he once criticized," says Project 21 member and former Indiana Attorney General Curtis Hill. "Those policies he so decries are the best hope for ensuring black Americans have the opportunity to live out the American dream."
"Your irresponsible comments target those upon whose shoulders you now stand as a current member of the U.S. House of Representatives," Project 21 member and Binghamton University alumni Sonia Morris says to Jeffries. "You, therefore, show your patent ingratitude to those who suffered for the privileges you now hold. Fortunately, conservatives of today have developed very thick skins thanks to people like you. Your very comments imply that all blacks must hold the same views as you. Wouldn't that be the very definition of slavery, the obligation to hold the same views of others without the freedom to dissent or differentiate?"
"Are you willing to call these notable people in our history 'house negroes' because they would disagree with your political ideology and social mores?" added Morris. "Sir, your arrogance is only outweighed by your ignorance. The true conservative is concerned with conserving and protecting our constitutional democratic republic as constituted by the Framers, and in so doing, securing the freedoms you now use to denigrate your fellow Americans. And we will continue to fight for your freedom to do so."