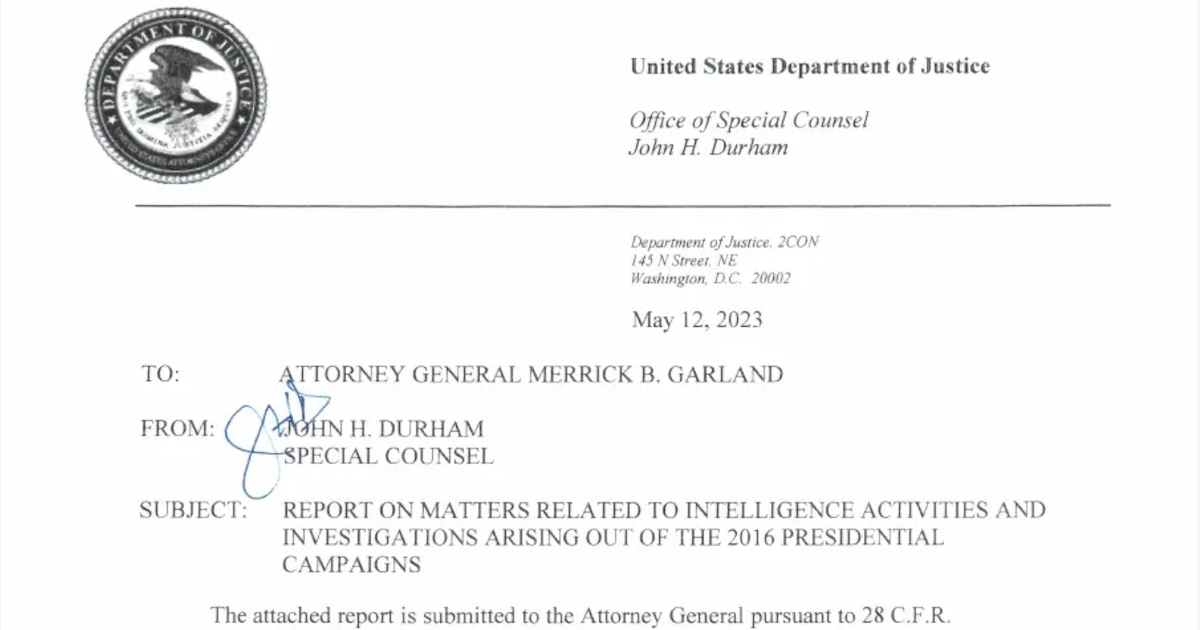 18 May 2023

Project 21 Ambassadors Saddened That the Durham Report Confirms Their Suspicions and Fears

Ambassadors with the Project 21 black leadership network are responding to the "Durham Report," a 300+-page document delivered this week by Special Counsel John Durham finding that the Department of Justice and FBI "failed to uphold their mission of strict fidelity to the law" in their initiation of the Trump-Russia investigation.
The stunning Durham Report confirms that the federal justice apparatus has gone full rogue, justifying its multiple abuses under the guise of "protecting us for our own good."

They cheated! They peeked under the blindfold to see who the target was and proceeded outside of ordinary scrutiny because they preferred a particular outcome. Even if they thought a particular outcome was better or worse, American justice demands that government play by the rules. Justice is supposed to be blind. It was always bad enough to suspect corruption of the federal justice system — it's now far worse to know it's true. It will be next to impossible to clean it up without cleaning house.
Project 21 Ambassador Curtis T. Hill, Jr., was the 43rd attorney general of the State of Indiana (2017-2021). 
The Durham Report confirmed my worst fears. The FBI and our other intelligence forces failed to stay focused on protecting America – the world's crown jewel – from the real threats we face. Instead they used the awesome powers the American people have granted them to pursue political agendas.

Not only did these actions interfere with the ability of the American people to maintain their lawful right of self-government by misleading them heading into a national election, these actions discredit the powers that we've granted and may ultimately put America at risk.
Horace Cooper is a senior fellow with the National Center for Public Policy Research, chairman of the Project 21 National Advisory Board and a legal commentator.
I am very happy and elated to hear that the Durham Report has completely exonerated former President Trump of the allegations of misconduct with the Russians. However, I am very disappointed that none of those involved with this Grand Conspiracy will be going to prison.
Project 21's George E. Williams has an extensive background in law enforcement and the military.