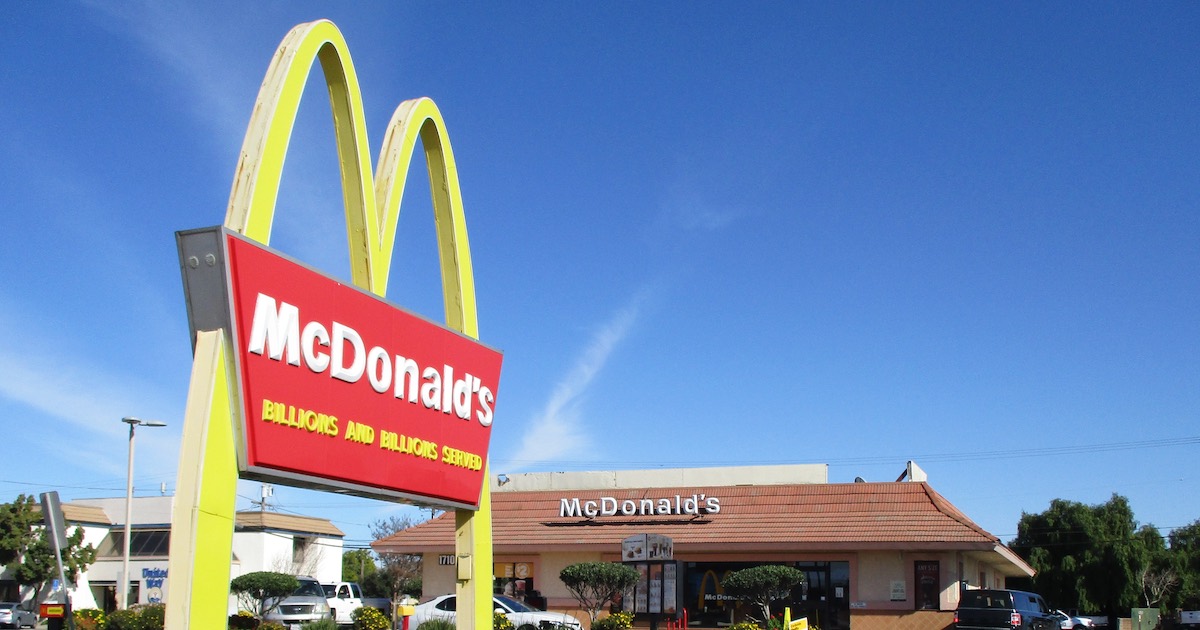 25 May 2023

McDonald's Asked by Conservative Shareholders to Account for Impacts of Racist Policies
Happy Meals for Some, But Not All
Washington, D.C. – Today, Ethan Peck – associate with the National Center for Public Policy Research's Free Enterprise Project (FEP) – presents a proposal at the McDonald's annual shareholder meeting that requests that the Board of Directors commission a third-party audit, and publish the findings, analyzing the impacts of the company's Diversity, Equity and Inclusion (DEI) policies on civil rights, non-discrimination and returns to merit, and the impacts of those issues on the company's business.
Many companies – including Bank of America, American Express, Verizon, Pfizer, CVS and McDonald's itself – have adopted DEI programs, trainings and officers that seek to establish racial and social "equity." But in reality, what "equity" really means is the distribution of pay and authority not on merit as it should be, but on the basis of race, sex, orientation and ethnicity.
Where adopted, such programs have raised significant objections, including the concern that the programs and practices themselves are deeply discriminatory and potentially in violation of the Civil Rights Act of 1964. By devaluing merit, corporations have sacrificed employee competence, moral and productivity to the altar of "diversity."
"McDonald's has special employee groups for women, blacks, Asians, Hispanics, LGBT people and other groups arbitrarily deemed diverse. But none for men, whites or straight people," said Peck in prepared remarks. "How is that any different from 'whites-only water fountains?'"
"The company is also intentionally, openly and proudly selecting employees and suppliers because they are women, black, LGBT or members of another group deemed diverse," added Peck. "That is very illegal. Hiring employees, and treating them differently, based on their skin color or sex violates the Civil Rights Act."
"In addition to being morally abhorrent and clearly illegal, DEI also runs counter to shareholder interests. By not relying on merit alone when hiring, promoting and choosing suppliers, and by sowing division between employees, the company is selling short its competence and productivity, thereby also violating its fiduciary duty," said Peck.
"It's time to put an end to this madness, and we should start by diagnosing the extent of the problem," added Peck. "That is what our audit seeks to make clear to shareholders."
In developing the requested audit and report, McDonald's should consult civil rights and public interest law groups, but it must not compound error with bias by relying only on left-leaning organizations. It must consult groups across the spectrum of viewpoints, including right-leaning civil rights groups representing people of color – such as the Woodson Center or Project 21 – and groups that defend the rights and liberties of all Americans.
McDonald's annual shareholder meeting will be held virtually on Thursday, May 25 at 10:00 AM EDT. The meeting can be accessed by clicking here.
View FEP's Proposal 8 can be found on page 95 of the McDonald's proxy statement.
About
The National Center for Public Policy Research, founded in 1982, is a non-partisan, free-market, independent conservative think-tank. Ninety-four percent of its support comes from individuals, less than four percent from foundations and less than two percent from corporations. It receives over 350,000 individual contributions a year from over 60,000 active recent contributors. Contributions are tax-deductible and may be earmarked for the Free Enterprise Project. Sign up for email updates at https://nationalcenter.org/subscribe/.
Follow us on Twitter at @FreeEntProject and @NationalCenter for general announcements. To be alerted to upcoming media appearances by National Center staff, follow our media appearances Twitter account at @NCPPRMedia.