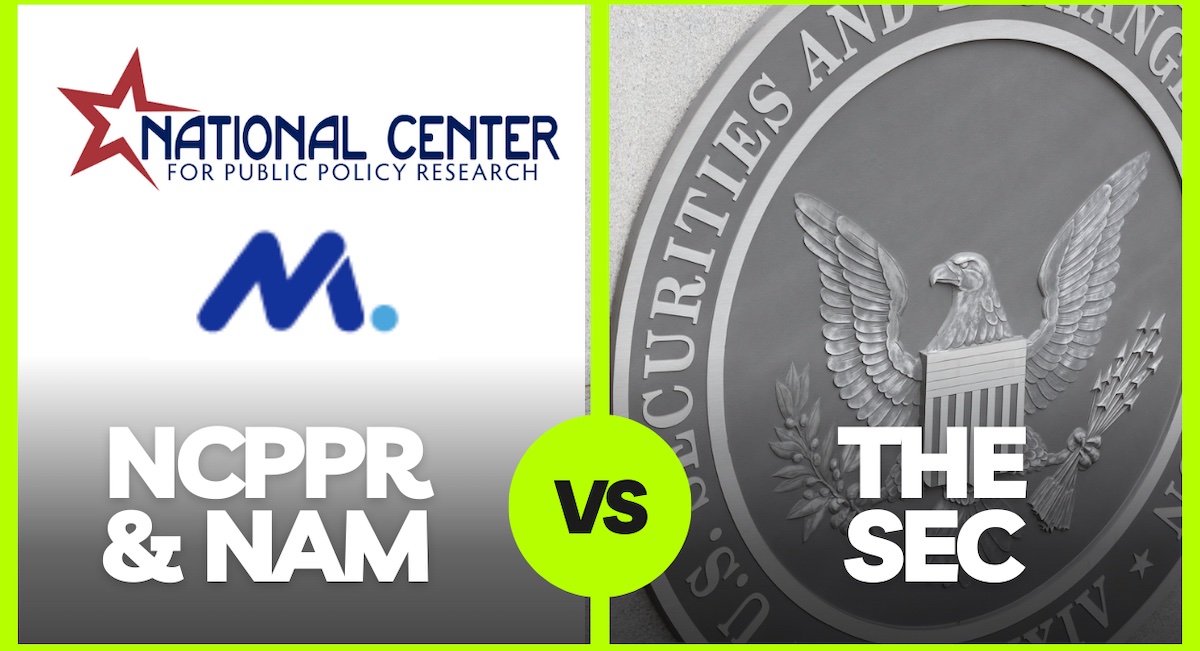 25 May 2023

National Association of Manufacturers Joins National Center for Public Policy Research to Challenge Securities and Exchange Commission on First Amendment Violations

Washington, D.C. – The National Association of Manufacturers (NAM) filed a motion Wednesday to intervene in a suit filed by the National Center for Public Policy Research (NCPPR) against the U.S. Securities and Exchange Commission (SEC). The suit challenges the SEC's authority to dictate the content of corporate proxy ballots presented at annual shareholder meetings for the approval of shareholders. NCPPR is represented in the case by the law firms of Boyden Gray & Associates and America First Legal.

"Manufacturers are facing an onslaught of activists seeking to hijack the proxy ballot to advance narrow political agendas, and the SEC has become a willing partner in the effort," said NAM Chief Legal Officer Linda Kelly. "The corporate proxy ballot is not the appropriate venue for policy decisions better made by America's elected representatives, and manufacturers are regularly caught in the middle as activists on the left and the right bring fights from the political arena into the boardroom. The NAM Legal Center is standing up for manufacturers to ensure they can focus on growing their businesses, driving economic expansion and job creation and creating value for shareholders."

NCPPR filed the lawsuit last month to ensure that the SEC either proceeds in a transparent and unbiased fashion or is stopped altogether.

"In recent years the SEC and its staff have refused a series of requests that it become more transparent in its decision making and modify its rules to eliminate opportunities for partisan decision-making about which proposals can proceed to proxy ballots — opportunities for partisanship that they have taken astonishing advantage of," said FEP Director Scott Shepard. "This reckless disregard of law and duty by the SEC has revealed the parlous condition of its claims to have any place in reviewing shareholder proposals at all."

Should NCPPR prevail in its suit, the courts may demand that the SEC revamp its proposal-review process or withdraw from that process altogether. NAM joins NCPPR in seeking the latter remedy.

About

The National Center for Public Policy Research, founded in 1982, is a non-partisan, free-market, independent conservative think-tank. Ninety-four percent of its support comes from individuals, less than four percent from foundations and less than two percent from corporations. It receives over 350,000 individual contributions a year from over 60,000 active recent contributors. Contributions are tax-deductible and may be earmarked for the Free Enterprise Project. Sign up for email updates at https://nationalcenter.org/subscribe/.

Follow us on Twitter at @FreeEntProject and @NationalCenter for general announcements. To be alerted to upcoming media appearances by National Center staff, follow our media appearances Twitter account at @NCPPRMedia.