05 Jun 2023

Horace Cooper: Liberals Scream Racism Because They Have No Agenda to Actually Help Black Americans

Project 21 Chairman Horace Cooper appeared this week on Fox News's "The Ingraham Angle" to respond to National Urban League President Marc Morial comparing Florida Gov. Ron DeSantis to George Wallace.

Horace said:
This is pitiful. This is sad. First the NAACP issues a travel advisory, and now the Urban League chimes in.

Apparently they must have some large donor that is saying to them: Since you don't have an actual agenda that will matter to black Americans — nothing for school choice, nothing for safer neighborhoods, nothing to make it possible for people who are entrepreneurs (disproportionately black men are interested in that) — since neither of these organizations have ANY policies to promote on that, you say these stupid, inane things….

Black Americans know better. How do I know? Because they are flocking to Florida. This is just pitiful to see these organizations act this way.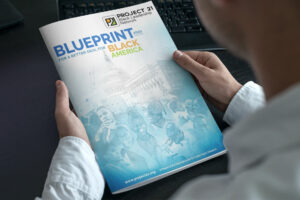 Horace is particularly sensitive to the liberals' lack of agenda because he and the Project 21 black leadership network recently released the second edition of their "Blueprint for a Better Deal for Black America," which offers a vision for ensuring that blacks reach their full potential and achieve the American Dream – a dream that is slipping away under the left's woke policies.
The Blueprint explores challenges facing black Americans and identifies 56 concrete policy recommendations in eight key areas of focus: Criminal Justice, Critical Race Theory, Education, Election Integrity, Employment, Energy and Regulation, Health Care and Taxes and Spending.
"Ingraham Angle" guest host Raymond Arroyo then brought up how Kamala Harris is joining the racist blame game by complaining about inequity in home appraisals.  Horace noted that Harris's idea of equity is unfair, untrue and not consistent:
This is pitiful. First they came out with this "if your credit score is too low, we're gonna give you an advantage over people whose credit score is 'too high.'"

Now what we're saying is, we can't tell whether or not the value of your home is accurate because a disproportionately white majority of people are making the assessments.

Does this count for your taxes as well? When the state assesses your property tax, are they lowering those too because you're minorities? Is that what we're wanting to say? We want the black homes to have these artificially elevated values so they can pay the higher property taxes?

There is no scientific showing that any of this is true, and this is pandering. And it's the pandering you do when you don't actually have an agenda that will make a difference in the lives of real people.