13 Nov 2013

Black Conservatives Draw Attention to ObamaCare's Navigator-Gate

Wasn't ObamaCare supposed to help pay for itself by reducing waste, fraud and abuse?

In its latest bombshell investigative video release, Project Veritas found that federally-subsidized ObamaCare "navigators" — the people supposedly helping get Americans enrolled in the President's namesake health care takeover — were willing to engage in less-than-ethical behavior.

And this behavior encourages… waste, fraud and abuse.

The undercover video also indicates that one of the major players in the promotion of ObamaCare participation, Enroll America, may have ties to a partisan group trying to change the political landscape of Texas.

Enroll America employee Brian Pendleton is caught on the Project Veritas video describing his group as "the official group for the DNC" (meaning the Democratic National Committee).  It is suggested on the video that Enroll America is working closely — and perhaps even sharing data with — a group called Battleground Texas, which many people on the video say is tasked with "turning Texas blue" (meaning making the state majority-Democrat during elections).

This is disturbing, but not surprising.  In a press release discussing a recent GroupSnoop profile of Enroll America, National Center for Public Policy Research general counsel Justin Danhof explained:

Enroll America is an extension of the Obama Administration in every sense.  Its actions to-date leave more questions than answers.  But one thing is for sure, its dealings with the White House, particularly its fundraising efforts, seem to cross ethical norms, and one senior Obama Administration official [Health and Human Services Secretary Kathleen Sebelius] may have broken multiple federal laws.

Now, it appears Enroll America's improper dealings with Battleground Texas raises even more questions.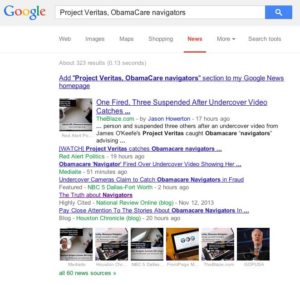 Unfortunately, but not surprisingly, the Project Veritas video has thus far been largely ignored in the mainstream media.  A Google news search of "Project Veritas" and "ObamaCare navigators" brought up only 323 results on the afternoon of November 13 — two days after the video was posted and despite over 368,000 views of the video through new-media sources such as the Drudge Report.
While the accused groups seek to downplay the unsettling accusations raised by the video, actions speak louder than words.  One government-subsidized group — an affiliate of the National Urban League that is operating in Texas — fired one employee and suspended three navigators who are likely to lose their certification as ObamaCare navigators as a result of the video's release.
As reported by John Fund on National Review Online, over $67 million in taxpayer money has been allocated for nonprofit groups and community organizers to help people sign up for ObamaCare through offerings such as the navigators.  The National Urban League, in particular, reportedly received $376,000 to enroll folks in Texas.
Another group enrolling people in Texas, Louisiana and Arkansas is Southern United Neighborhoods, which is said to employ members of the Local 100 Labor Unions as navigators.  The union is affiliated with former ACORN founder Wade Rathke.  ACORN abuses of government funds uncovered by Project Veritas founder James O'Keefe in 2009 led to the extreme left-wing groups and its affiliates to lose federal funding and eventually shut ACORN down.
At the Urban League offices in Texas, navigators are caught on video telling the investigator, posing as a potential enrollee, to hide income and not report habits that could raise their ObamaCare costs.
For example, one Dallas, Texas-based navigator for the Urban League identified as "Mrs. Dorothy" told the investigator — who admits to not reporting under-the-table income from odd jobs to the IRS — to "[d]on't get yourself into trouble by declaring [the income] now."  A second navigator identified as Lakisha Williams interjected about the lie, "Yeah, it didn't happen."
In Irving, Texas, another unidentified navigator affiliated with the Urban League told the investigator not to mention occasional smoking, saying, "you lie, because your premiums will be higher [if you tell the truth]."  She later added, "I always lie on mine."  A second navigator commented about the smoking question: "Don't tell them that.  Don't tell 'em."
Since the release of the Project Veritas video, the Urban League of Greater Dallas confirmed it fired a "part-time receptionist trainee" and suspended three "navigators-in-training" and would support efforts to strip them of any certification they may have or be entitled to at this point regarding promoting ObamaCare applications.
An official statement stated that the Urban League doesn't "condone" or "sanction" any effort toward "misleading the public… [about] an issue as critical as health care."
In the wake of this scandal, Texas Attorney General Greg Abbott called the navigator program "ripe for abuse."  This charge is echoed by former national Social Security Administration commissioner and former HHS general counsel Michael Astrue, who wrote in the Weekly Standard:
As a practical matter, these navigators are unaccountable, and yet they will be asking people for Social Security numbers and other sensitive information.  It will not take long for navigators to become predators, and HHS has no plan to deal with the new breed of predators it is creating.
This concern about a new era of ObamaCare-spawned waste, fraud and abuse (and the additional threat to privacy) is shared by members of the National Center's Project 21 black leadership network.
Project 21 members applaud the work of Project Veritas in pointing out the inherent problems and potential politicization of the American health care system as it is being transformed by a plan that many lawmakers voted for before they knew what was in it.
Project 21 co-chairman Horace Cooper, said:
First, the feds destroyed the private insurance market and replaced it with a poorly-run federal exchange in two-thirds of the country.  Then they combined that with a dramatic expansion of Medicaid.  This has disrupted the lives and threatened the insurance coverage of millions of Americans, seemingly pricing most black Americans out of the private market altogether, or at least steering a disproportionate number of blacks into the health care ghetto called Medicaid.
Now, we find out the feds are sponsoring ACORN acolytes and other liberal groups to apparently sell the public on the benefits of lying and cheating in order to get this subpar care.
When the inevitable prosecutions occur, it will be the very low-income individuals —black and white — who President Obama claimed he wanted to assist who will be punished.
Project 21 member Christopher Arps added:
Once again, thank goodness for James O'Keefe and the other new-media entrepreneurs who are doing the important work that the mainstream media refuses to do.
Not only are the things by the ObamaCare navigators depicted in this video unethical, but they are likely illegal as well.
The ObamaCare navigators and the other pro-ObamaCare groups aligned with them are just the resurrection of the notorious ACORN organization, which Mr. O'Keefe thankfully exposed and helped to destroy a few years ago.