16 Jun 2014

Supreme Court's Important Unfinished Business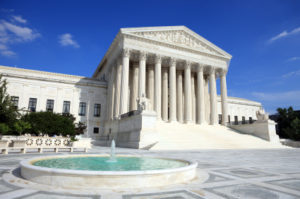 As is the tradition at the U.S. Supreme Court, justices are leaving the release of their decisions on many of the biggest cases of the term until the very end.
After today's three opinions, there are 14 rulings still left to be revealed before the Court's term ostensibly ends on June 30.
Among the cases to be decided include the ObamaCare mandate forcing religious businessowners to compromise their faith, the President's probable unconstitutional use of recess appointment power, free speech around abortion clinics, coercive union fees and police power to search cellphones.
Currently, there are three more scheduled days — the remaining Mondays in June and this coming Thursday — scheduled to release these opinions.

Horace Cooper, the co-chairman of the National Center's Project 21 black leadership network, noted this remaining large parcel of decisions could contain some of the most important rulings in recent memory:
Over the next two weeks, the U.S. Supreme Court will issue rulings in some of the most critical cases to come before the highest court in the land.
The cases that remain offer the American people an opportunity to understand many of the basic principles of our constitutional system.
From the power of the presidency, the scope of religious rights of corporations to whether police can confiscate your cellphone and read its contents, the U.S. Supreme Court is ultimately going to reaffirm our fundamental rights or push us in a post-constitutional direction.
While most Americans can't name these individual justices, they will likely have remarkable influence on our liberties and freedoms.
top photo credit: iStockPhoto