08 Sep 2015

Project 21 Members Dominate Media Discussions About 'Black Lives Matter'

Recently the news media has been abuzz with stories about the Black Lives Matter movement and its possible connection to the recent trend of murdered police officers.  And right smack in the middle of the media discussions have been several members of our Project 21 black leadership network.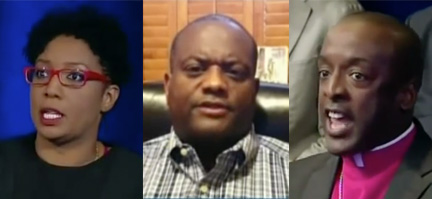 This past Friday, September 4, the Fox News Channel's "Kelly File" held a discussion entitled "Black Lives Matter and 2016."  Project 21 members Stacy Washington and Bishop Council Nedd II were part of the lively discussion.
They began their comments by defending the majority of police officers in light of threats from members of the Black Lives Movement.
Are such threats against police common or simply anomalies?  Stacy recounts the horrific behavior she witnessed firsthand in Ferguson, MO, as protestors stood before police and threatened their wives and families.
Finally, during a discussion of ways the black community can avoid future violence and poverty, Council argued for the importance of training children correctly, and Stacy noted the need for strong fathers within the family structure.
Stacy was on television twice on Friday night.  In addition to "The Kelly File," she appeared on NewsmaxTV's "The Daily Wrap," where she again shared her firsthand experiences in Ferguson, MO, and asked the cutting question, WHICH black lives matter?  According to Stacy:
In St. Louis just a couple of weeks ago we had a 93-year-old Tuskegee veteran robbed twice by two sets of black men in Ferguson. We had a nine-year-old girl shot to death on her bed as she did homework… Not a peep from Black Lives Matter… Why didn't THOSE black lives matter? Why weren't there protests for that?
Two days earlier, Stacy appeared on NewsmaxTV's "The Steve Malzberg Show" to discuss the Iran deal, Kentucky Clerk Kim Davis and whether Black Lives Matter is a hate group.
Regarding whether the Iran deal is pandering to Iran rather than representing American interests: "We don't do our foreign policy based on how other people feel [but] now we're going to govern through feelings… Feelings don't matter in war."
Regarding Black Lives Matter: "Their rhetoric of late has sounded a lot like a hate group. I would not call them a hate group, but I think they need to tone down their language."
Stacy wasn't the only Project 21 member with multiple media appearances last week.  Carl Pittman knew fallen Harris County Deputy Darren Goforth personally, and he responded to Goforth's murder and other recent murders of law enforcement personnel on several radio and television shows.
On August 31, Carl was interview by Dr. Drew Pinsky on HLN's "Dr. Drew" show.
"The political leadership has literally approved of bad behavior," said Pittman. "A lot of people are taking this as some sort of green light to go out and continue to act in these lawless ways, and I fear we are going to see this get much much worse before it gets better."
Pittman was also interviewed on NewsMaxTV's "The Hard Line" on September 3.
"I do believe the rhetoric that we've heard as of recently – the march where they were chanting 'Pig in a Blanket, Fry 'Em Like Bacon' – that is very very dangerous rhetoric where someone that might be easily manipulated might follow through and try to carry something like that out," said Pittman.