27 Oct 2015

Black Conservative Kevin Martin Supports Voter ID Requirements

Should the Voting Rights Act be reauthorized in its current form? Should photo identification be required to vote? Project 21's Kevin Martin was part of a panel on Thom Hartmann's "Big Picture Rumble" to discuss these and other issues.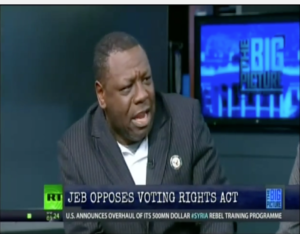 Regarding photo identification requirements for voting, Martin said:
"I'm a veteran. I go to get my benefits from the VA, I gotta show an ID. I go into a bank, I gotta show an ID. I go into my credit union, I gotta show an ID. I give blood, I gotta show an ID. All of a sudden now, magically, if I need an ID to vote, it's racist."
Martin also called into question the statistics that liberal host Hartmann used to oppose voter identification requirements.
Watch the excerpt below.